She is just 18 years old, and she has to sell kachuri at Habra Station. She is not an imaginary character. She is Maumita Ojha. A lady who weaves her future dream in a kachuri shop Maumita from Habra had to take on all responsibilities at the age of 18 only to fulfill her father's dream. She started coming to the kachuri shop in childhood,holding his father's hand,and now she owns the shop.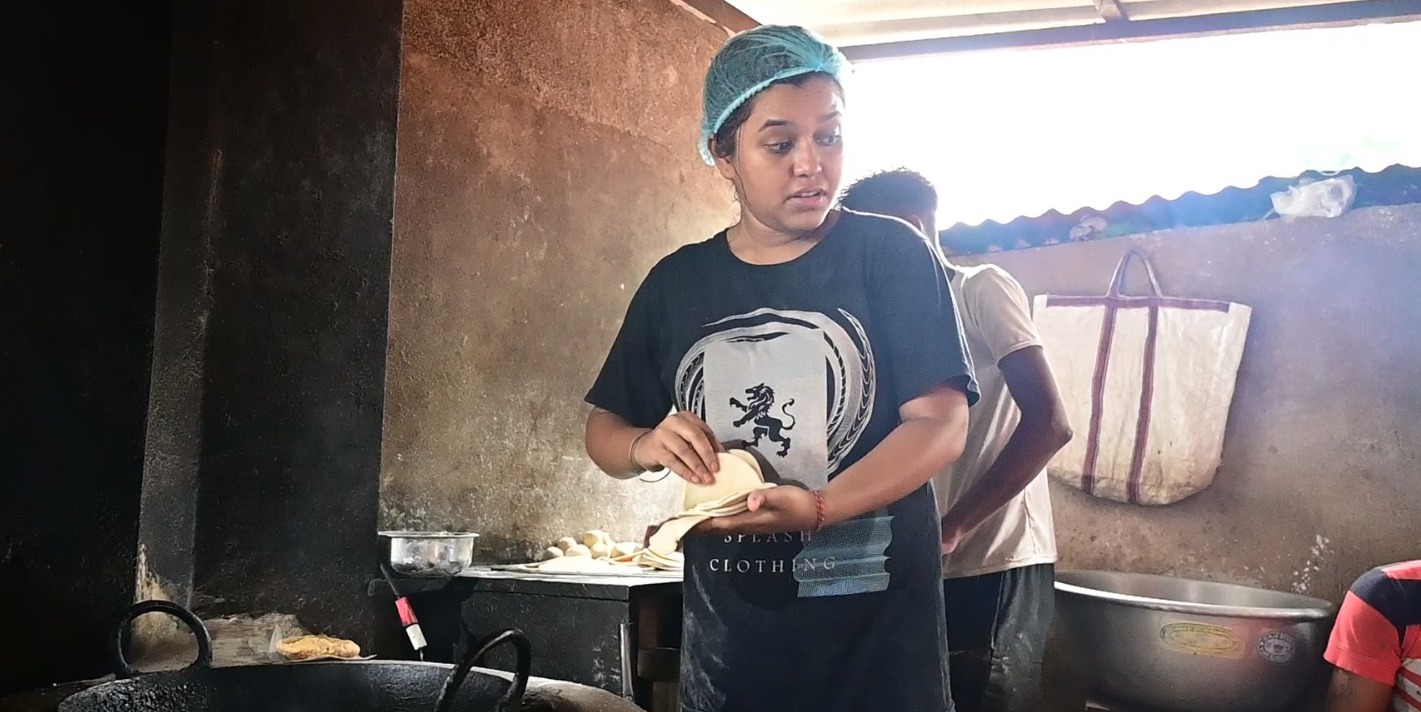 This shop can be found on platform number one at Habra station.
The kachuri in this shop is very famous. Every foodie should know about this place. There is a huge crowd in front of the shop early in the morning.
2 pieces of kachuri for only 10 rupees—luscious kachuri to fill your empty stomachs at a low price—has stolen everyone's mind.
Her mother, Kalpana Ojha, stays with Maumita to help her in the shop. Talking directly to her after first tasting the tempting kachuri, she said, This kachuri shop is 40 years old, but earlier it was a joint shop, but later the ownership of the shop was divided between two brothers.
During the lockdown in 2020, the shop was divided due to various family problems. She said that Moumita lost her father in July 2021. He was suffering from liver cirrhosis. Later, he was diagnosed with a lung infection. After the death of her father, Moumita took over all the responsibilities of the kachuri shop in order to fulfill her dreams and run the family. Kalpana Ojha's tears came to her eyes while talking about her daughter, who lost her husband with a broken heart.
Then, while telling the story of her struggle, Moumita said, "After my father's death, if I had not taken over the shop, the family would not survive. Although I had some problems understanding the business at first, I got it all in a few days. In addition to me in the shop, sometimes my mother also comes to help me. Along with this, my studies for the completion of my MA are also in full swing."
Moumita also said, "It is a great debt to receive the wishes of so many people whom I do not even know".
She gets up early in the morning and comes to the shop with her mother. She could not accept the sudden death of her father after 10 months of opening the shop. Come to the store, saying that she will stand by your father. Now all the responsibility is on her shoulders.
How does she manage to study after all this hectic schedule? In this context, she said, "When my journey started, everything was online then, so there was no such problem. I was studying at Bidhannagar Government College. So the teachers at the college helped me a lot. Since my father died, they have also helped me financially."
In the evening, after a whole day's work, Maumita concentrates on her study. Currently, she is studying Honors in History at Rabindra Bharati University via distance learning.
What are her future plans? Dream about the shop or choose another way?
"My exams are going on. After my exams, I want to go into the teaching profession. I want to make the shop bigger too. I know the circumstances under which my father used to separate the shops. When he used to take potatoes on his bicycle in the morning, I knew how hard it was to work with a sick body by the fire".
All the best for the future, brave Maumita. May all her dreams be fulfilled.