The ODI World Cup is starting in the country in October–November. October 5 to November 19, and the most-awaited Durga Puja will start on October 20. This time, Bengalis will be having double celebrations at the same time!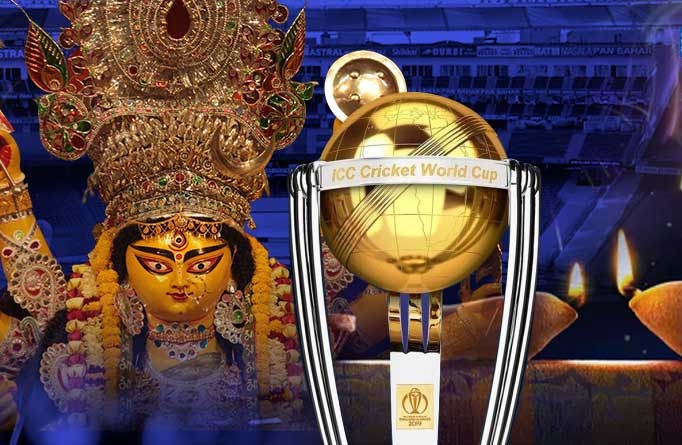 According to the ODI World Cup 2023 schedule, On October 14, Mahalaya and, on the same day, England vs. Afghanistan and New Zealand vs. Bangladesh will be having matches. But these matches are not in Kolkata. India vs. Bangladesh match in Maha Panchami on September 19 in Pune October 20: Maha Sashti Australia vs. Pakistan match in Bangalore On October 21, It is Maha Saptami and there is a match between England and South Africa at Wankhede Stadium. India vs. New Zealand match on October 22, Maha Asthami, in Dharamshala.
Pakistan vs. Afghanistan in Chennai on October 23, Maha Navami South Africa vs. Bangladesh in Mumbai on October 24. Australia vs. Qualifier in Delhi on October 25, on that day it is Ekadashi. October 28 is Lakshmi Puja, and on that day, Bangladesh vs. Qualifier will be playing this match in Kolkata. November 12 is Kali Puja. England vs. Pakistan will also be playing this match in Kolkata.
First semi-final on November 15. The match will be in Mumbai. The second semi-final will be held in Kolkata on November 16, the day after Bhai Duj. The World Cup final will be on November 19.
Bengalis will be engrossed in the World Cup matches or will be doing Pandal Hopping. This comes with a big question. But let's hope for the best.