The Lok Sabha poll has just begun. West Bengal Chief Minister Mamata Banerjee is busy in several election campaigns. The only topic for any 'para adda' or groups in the locality now is about politics. But amid the election season, there is another famous Bengali festival around the corner and that is 'Poila Baishakh' or Bengali New Year. You can't deny the fact that Bengalis are always 'on' for any festivity. Hence, the city is known as 'The city of joy'. Poila Baishakh is no less than any festival. Bengali's welcome their new year with pomp and grandeur. Food is an essential part of any Bengali festival. So, we have come up with some of the homemade recipes that you can add in your Poila Baishakh menu.
Add these old lost flavors of Bengal this Pohela Baishakh in your menu. Try these old authentic Bengali recipes and let your loved ones relish on them.
With the rich heritage, this City has lots of histories buried in it. And food is one of them. No wonder Bengali cuisine is praised worldwide because the texture, the tastes and the various flavors of this cuisine have stimulated everyone's taste buds.
Here are the recipes that we can try at home this Poila Baishakh.
1.Niramish pulao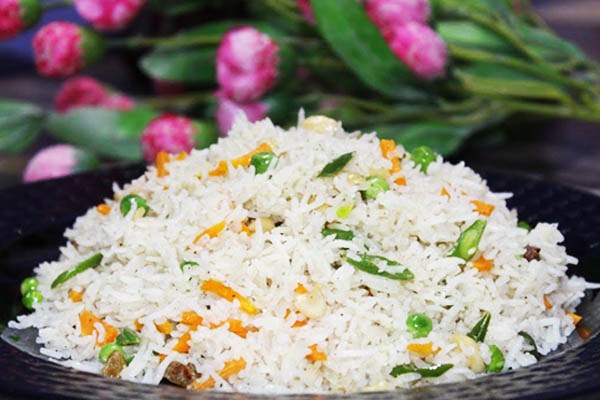 Ingredients:
cups Basmati rice
tbs ghee
large potatoes, peeled and cut in half (optional)
carrot peeled and cut
or seven green beans cut
250gm chhana (optional) 1/2 cup peas (optional)
2tbs cashew nuts 1tbs raisins Salt to taste
1 in ginger
2 cinnamon sticks
4tsp garam masala (whole)
1tsp shah jeera
1tsp shah marich
2 bay leaves A few cardamoms
1 javitri
Method: This pulao is a family favorite and potatoes, carrot, beans, peas or even home-made 'chhana' (homemade cottage cheese) fried in ghee are used to garnish it. Wash and dry the Basmati rice. Keep aside. Boil the potatoes or other vegetables and fry in ghee. Keep it aside. If you want to make it with chhana then take the chhana and press it to let the excess water run-off. Cut into small pieces and fry in ghee. Keep aside. Now take ginger, garam masala, bay leaves, cinnamon sticks, shah jeera, javitri, shah marich, cardamoms and boil in water till the liquid reduces. Sauté the dried rice with garam masala, bay leaves, and the other spices in ghee. When it's almost done, add the vegetables and chhana. Garnish with cashews and raisins. Serve and enjoy it with your family and friends.
2.Chingrimachher (prawn) Kabab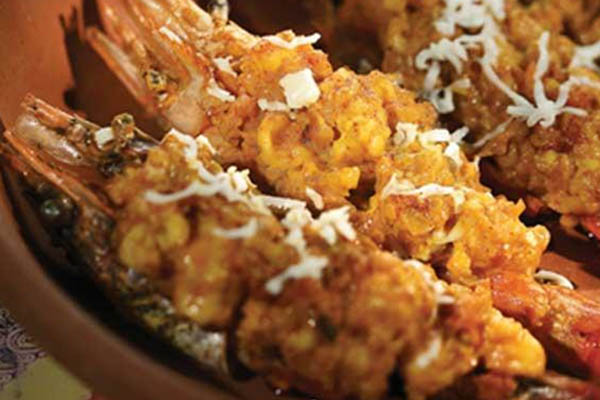 Ingredients:
4 large size prawns
3tbs ghee
Coriander
2tbs ginger garlic paste
2tbs onion paste
1tbs garam masala powder
Salt and sugar to taste
Method: Take four large prawns and boil them. De-shell them and don't forget to remove a black thread like structure from it, keep the shells aside. Grind the flesh into a fine paste. Heat ghee in a pan. Add the flesh and stir-fry for 3-4 minutes. Add onion paste and ginger-garlic paste. Season with garam masala, salt and a little sugar you can also add some coriander as per (as per choice). Stir well. When it is ready, put the filling into the prawn shells and fry lightly in ghee. Serve it hot with salad or some homemade yummy dips and enjoy it. It can be a good starter for your guests on this Poila Baishakh.