Nipponzan Myohoji also known as Kolkata's Japanese temple offers amicable place to the visitors. It is the only Japanese Buddhist temple in Kolkata. It is well maintained and one of the most beautiful temple in Kolkata. This place is peaceful, undisturbed and has pleasing ambience.
The Japanese Buddhist temple is located in Lake Road,Dhakuria, South Kolkata. The presence of this amazing place is unknown to many Kolkatans.
This temple is located in peaceful, undisturbed and in a pleasing environment where you can feel stress free and relief. In the compound house there is a statue of Buddha and in two pillars two lions in the edgeways. Behind the temple some rooms for the devotees and head monk.
The temple was founded by Nichidatsu Fujii who was a disciple of the great Japanese Buddhist monk Nichiren who held the opinion of Lotus sutra. Lotus sutra is the collections of Buddha's teachings near the end of his life which one and only meaning was complete embodiment. To fulfil mentor's dream to preach Lotus sutra in India he arrived and started the construction of temple. Jugal Kishore Birla donated land for construction.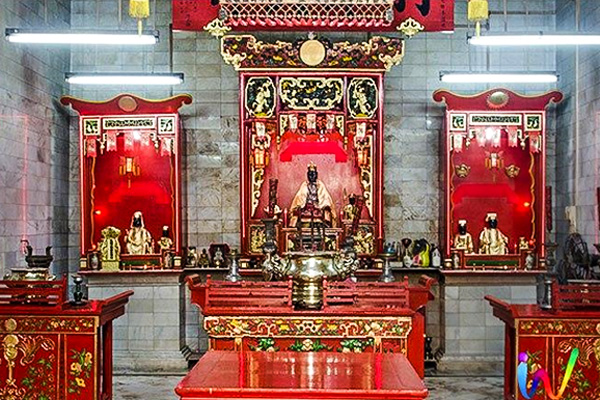 Inside is a marble idol of Buddha sitting and altar was beautifully decorated with bright colours and brass lamps. The ceiling hung beautiful chandelier and walls full of Japanese chants. The monk quarters are located in the backyard of the temple having beautiful delaminated garden. The garden walls also have Japanese chants in bright golden colour which messages to carry peace.
This temple has different charm. It is also perfect place for meditation. You need to have special permission to use cameras.
Now a day the temple is run by monks from North-east side and regular service happen in morning and evening. The morning service is from 5am-6am and evening service is from 5 pm-6:30 pm respectively. People of every religion are welcome for free in the temple. This temple remains wellspring for peace for people of every religion.