The Ganesh Grains Limited which is one of India's leading flour product manufacturers announced it "pan India expansion plan", extension of the company's periphery and called for a press meet at "The Senator", Kolkata. The journey and evolution of the company's was highlighted by Mr. Manish Mimani, Managing Director of Ganesh Grains Limited.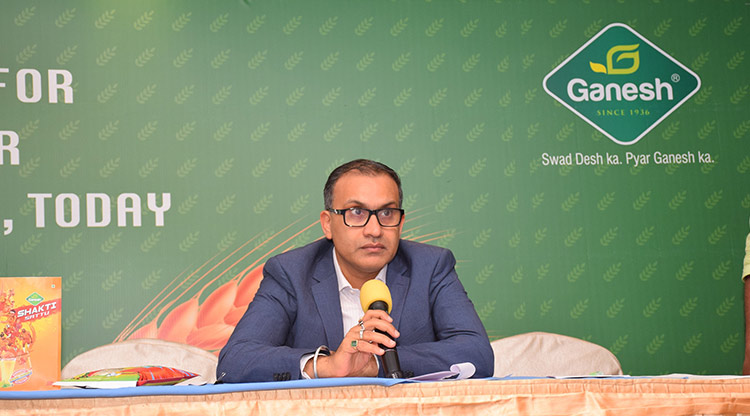 The fresh quality and quantity at an affordable price made the Brand "Ganesh" a household name. Ganesh Grains which is one of the oldest and largest staple brands in Eastern India announced to have imprints not just in west Bengal but across the country.
Starting from Eastern Indian to down south, this grain manufacturing company has set its prints in Bihar, Jharkhand and Orissa, North East India-Assam, Tripura, Sikkim, North India's Delhi, Uttar Pradesh, Uttarakhand and many more. Speaking about such growth, Mr.Manish Mimani said, "We have 8 manufacturing units and 6 warehouses across 3 states and more than 450 distributors catering to 30,000+ retailers in West Bengal only. Having been amongst the top players in Eastern India, we are now venturing in other states with our array of existing and upcoming variety products striving to receive the same kind of success that we have garnered here in West Bengal. We also aim to generate more employment opportunities through our distribution channels."
Back in the year 1936, Ganesh Grains made their place on top position for its sooji( semolina)- Flour products in West Bengal even their Atta Industry in the state has a huge turnover record too. Keeping the growth pace steady, this grain company made its Brand presence effective over the years and still going strong.

The company takes pride in, "Colour sortex" machine for it upgraded technology for which it has been praised for yielding quality product. Back in 1936, the company becomes a pioneer in food industry by introducing wheat and gram flour in the Indian market, keeping a promise to provide a healthy food for the citizen's and making the company a famous brand.