First Bengali Summiteer Debashis Biswas summited the second 'roof of the earth', Mount Lenin (23,406 ft), on Friday. Five mountaineers went to conquer Mount Lenin. They are: Debashis Biswas, Malay Mukherjee, Sourav Sinchan Mondal, Abhijit Roy, and Kiran Patra.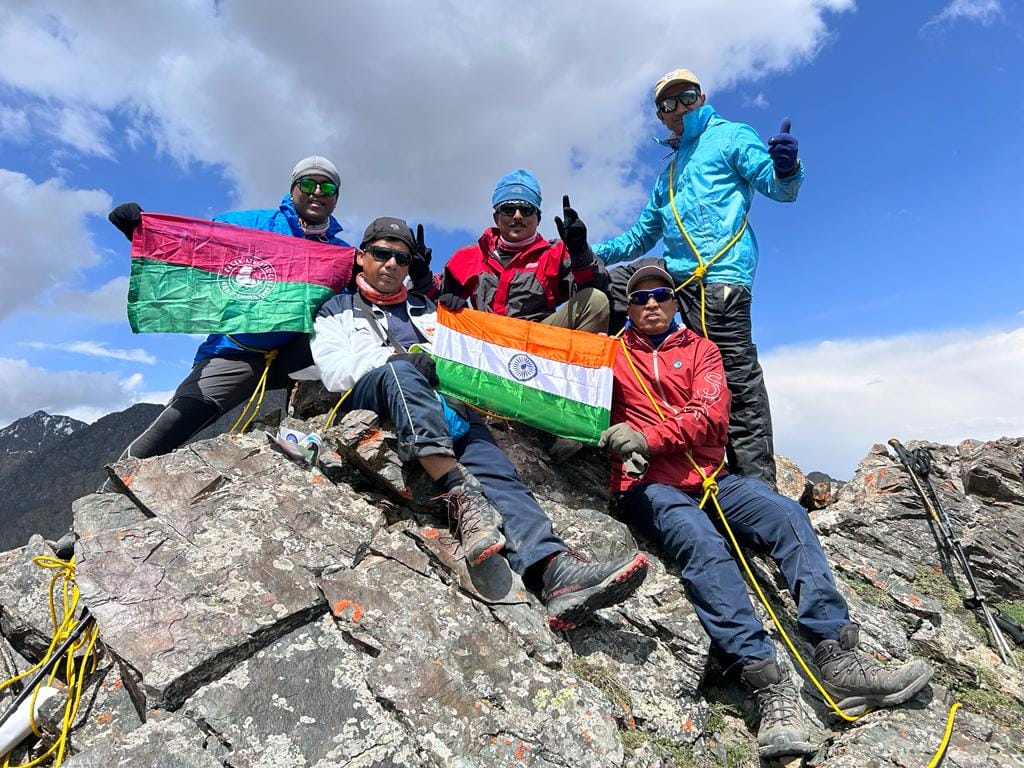 On Monday, July 10, Four climbers, including Debashis, reached the Basecamp of the Pamir. Then, on July 11, the four mountaineers arrived at Camp 2. On July 12, they went to Camp 3. On July 13, i.e., Thursday morning, four people climbed the 20505-foot peak of Rezdelni and returned to Camp 3. The four were scheduled to climb the final summit of Mount Lenin that night. But due to bad weather, Debashis Biswas and Malay Mukherjee left for the summit, while others stayed in the camp. Malay went some distance but came back. However, On the morning of July 14, Debashis Biswas climbed the peak of Mount Lenin.
It is known that Sourav Sinchan Mondal fell ill 200 metres before reaching Camp-2 during the Mount Lenin expedition.
At that time, he was rescued by the agency and taken first to the base camp and then to the nearest Hospital for treatment. Currently, Sourav's physical and mental conditions are stable.
Sourav from Kyrgyzstan said, "Arijit told me from Camp 1 that Debashish da was successful and touched the peak; now he is down to Camp 2 after completing the campaign. The remaining three are in Camp 1. The remaining three are going down to Camp 1. Everyone's physical condition is alright."
Earlier, in August 2016, Bengal's eminent mountaineer Anindya Mukherjee, along with his Australian friend Athol Jake Preston, went on the Mount Lenin expedition through the north-west ridge of the Pamirs. But due to bad weather and heavy snowfall, they had to come back. Debashis brought success six years after that campaign.
Not only Lenin, but these climbers have scaled multiple peaks of Kyrgyzstan's Pamir Plateau (also known as the Roof of the World) in the past month. On June 30, Debashis, Malay, Kiran, Abhijeet, and Sourav Sinchan Mandal from Bengal made the first ascent of Mount Uchitel (14928 ft) together. Then, on July 3, they successfully climbed Mount Valskom (13396 ft) in the second Pamir expedition. These five climbers named the mountain 'Mount Unity'. These five Bengali mountaineers have also touched the Rajdelnaya peak (20505 ft) before starting their journey to reach Lenin's peak.