There may be months to go for Durga Puja, but this time there is a rush in North Kolkata's narrow alley i.e., Kumortuli. This year Kumortuli artisans have received many orders for making idols and some of the idols have already boarded the ship.
Kumortuli artisans have already become busy as Bengalis have been performing Durga Puja abroad for years. So, artists have to prepare idols long in advance as they take time to reach their destination. Bengalis are all over the world now, be it Paris or Dubai. They come together during Durga Puja and celebrate wonderfully.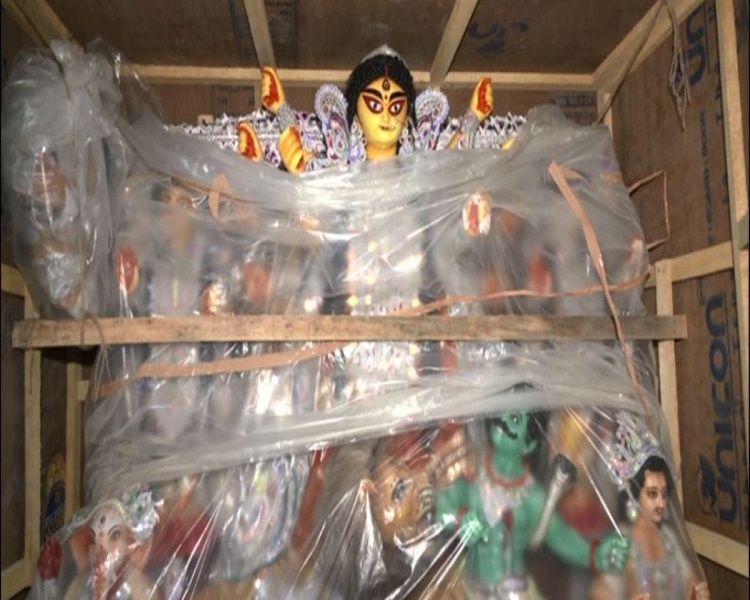 Nowadays, idols going to foreign countries are made only with fibre glass which goes abroad because, in earlier days, idols were made of clay, but there is a possibility of getting damaged. So, the artisans came up with the concept of light and strong fibre Durga idols. The height of the idols which are going abroad is not more than 8 to 9 feet as they go far away. The artists are responsible till the idol is made and packed, then the rest of the responsibility goes into the hands of various shipping companies. From Kumortuli the idol goes to Kolkata port and from there to its destination. It takes at least two to three months to reach America by ship and takes one and a half or one month to reach European countries. The height of the Durga idol is fixed, 'ek chala', sometimes 'paach chala' idol is also made in Kumortuli, their demand is mostly for the 'sabeki protima'. Fibre idols also take more time to make than making clay idols. From the price of the equipment to the wages, all the expenses are very high. The foreign people already give orders for making idols one year before only.
According to the Kumortuli artisans, there is no separate Puja time for them, they work throughout the year. An artist named Kaushik Ghosh from Kumurtuli has made more than 30 Durga idols which are travelling abroad this year and from them, 16-17 idols already went to their destination. Famous artist Mintu Pal said that his 8 Durga idols are going abroad this time. By now, 2 of his idol have gone to America, and the idol which will be going to Germany is now being painted. Not only Durga, but 2 'Kali Protima' are also getting ready to travel abroad. Another artist is Subal Pal, whose fibre Durga idol travels abroad now and then. So far 4 Durga idols have gone to France, and some are now on their way to America. He is still making 5-6 idols which will be shipped next month. According to the artisans they said, the order can still come now, as they have a lot of time left.
The Kumortuli artisans already started making Durga idols for Puja in Bengal. Durga Puja is getting crowded and exciting every year to every Bangalianas, the idol-making in Kumortuli is also increasing, not only abroad but also for our state and locally. Artisans rejoice as business rebounds after COVID, hopeful to visit their 'protimas' in 'probashi Bangali' homes.