Debutant actress Kankana Chakraborty is very happy now a day and why won't she be? 'Shobdo-Jabdo', the web series has Rajat Kapoor and Kankana Chakraborty and it is directed by Sourav Chakraborty. Recently, Amitabh Bachchan shared her post.
Previously, Kankana Chakraborty made two short films starring herself and Sabyasachi Chakraborty titled "Witten by?" and "Anurup/Mirror Image" which has garnered praise in various national and International film festivals. Recently the teaser of Shobdo-Jobdo was out and Big B aka shared the same on his social media quoting
He wrote on his social media handle, "FB 2622 - Kankana , came on as an Ef on Blog, passionate about films, studied in US, made Award winning film and now this .. Proud of you .. keep moving Poster and Teaser of her first Bengali Web series as an actor. It's called 'Shobdo-Jobdo."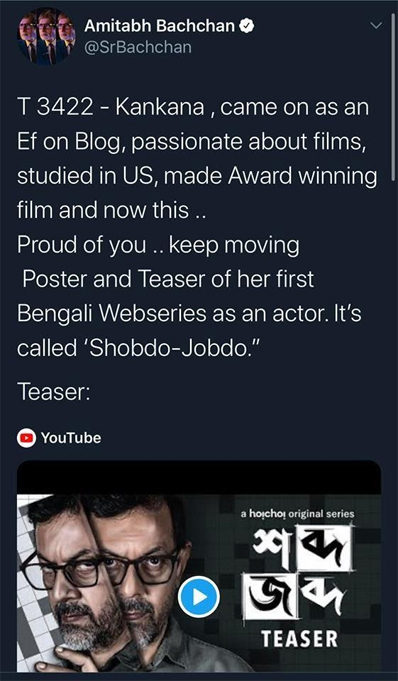 Elated Kankana shared the teaser of Shobdo-Jobdo via e- mail to Amitabh Bachchan and next day she saw Bachchan Shaab's shared the same on his twitter and Facebook page. Not to mention, this is for the second time Big B shared Kankana's work. Kankana is too excited to about the premiere of Shobdo-Jobdo as she has shared the screen with none other than one of her favourite actor Rajat Kapoor .