Kolkata's long-awaited moment has finally arrived as the World Cup trophy makes its way to the iconic Eden Gardens. Cricket enthusiasts in Kolkata are thrilled to have the opportunity to witness the coveted 'World Cup Trophy' up close, even though it remains uncertain whether Rohit Sharma's team will claim it.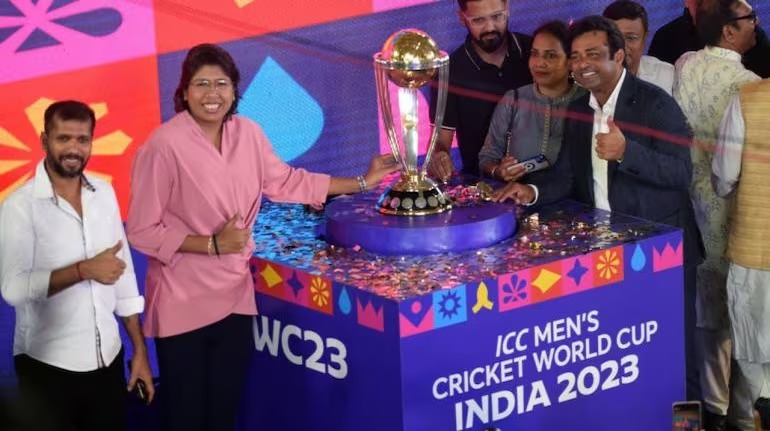 Throughout the week, the World Cup Trophy toured various cities in the country, capturing the hearts of cricket fans. The glittering trophy was put on display during a spectacular event, featuring the presence of notable sports personalities.
Sports Minister Aroop Biswas and Agriculture Minister Shovan Deb Chatterjee graced the special occasion. They were joined by legendary cricketers like Leander Paes, Jhulan Goswami, Ashok Dinda, Dola Banerjee, Rahul Banerjee, and Sourav Ghoshal, among others.
The event also featured a display of previous vintage World Cup clippings, showcasing the history of cricket and other sports in Bengal. The photographs of Bengali sports representatives who have made their mark on the national stage were prominently displayed. However, the absence of images of Pankaj Roy and Mohammad Shamim raised questions, although CAB President Snehasish Ganguly admitted to the oversight.
Chief Minister Mamata Banerjee extended her best wishes through a message, which was read aloud by Sports Minister Aroop Biswas. She then handed the trophy to CAB President Snehasish Ganguly. Former Indian cricket captain Sourav Ganguly also sent a special message from London to encourage the Indian team and convey his support for the World Cup event's successful organisation.
Snehasish Ganguly reassured that they aim to maintain perfection and avoid any mistakes in organising the World Cup. He expressed his regret over the omission of Shamim's photo and assured that this would not be repeated. Ganguly also shared that preparations for the 1996 World Cup semi-final, possibly featuring India and Pakistan, are already underway, with special arrangements being considered for this monumental clash.
In conclusion, the World Cup Trophy's arrival in Kolkata has stirred immense excitement among cricket lovers, and the city is leaving no stone unturned to ensure the event's success and showcase Bengal's rich sporting heritage to the world.