#AscheBochorAbarHobe
Everyone has their own way to celebrate Durga Puja and our way is digital. Few months back, JIYO BANGLA took the initiative to support 150 Clubs and Committees celebrating Durga Puja in West Bengal and be their digital partner. And 'Jiyo Bangla Sharod Samman-2018' touched the sky in its first year with the immense love we received from our audience but as they say sky is just the limit!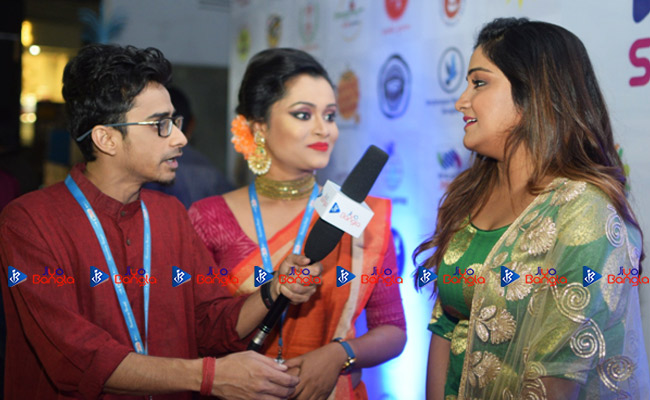 Anchor Riya and Sunandan with Actress Sayantani
To conclude Jiyo Bangla Sharod Samman's journey this year and celebrate the marvellous work of each club andcommittee,on 6th December (Thursday) at Gyan Manch, we felicitated 22 Clubs based on their uniqueness. And Token of Appreciation was handed over to 33 Clubs.
Rj Rakesh and Rj Pragya during the award ceremony
The programme started with the famous duo, RJ Rakesh and RJ Pragya's addressing the crowd and thanking everyone who participated in Jiyo Bangla Sharod Samman. It was followed by a series of mesmerizing events- the inauguration ceremony, Ganesh Vandana, two recitation and launch of our show 'Kabbo Kotha'.
Later it was followed by folk songs, Rabindra sangeet, Guitar Performance of Jiyo Bangla employees and Launch of 'Rhythm Studio'. Other than these performances two Bengali movies 'Akashee Pullover' and 'Revolver' were promoted too.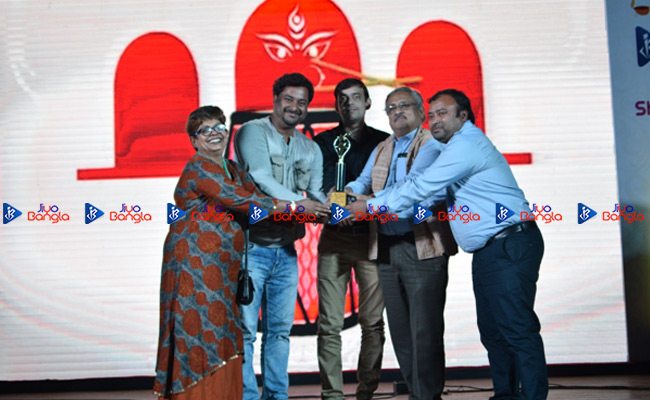 Club taking award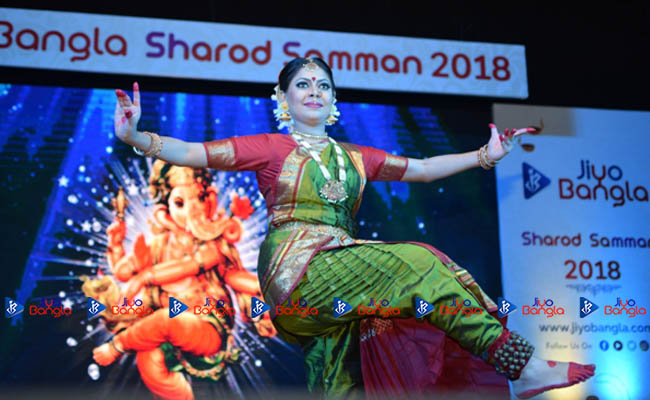 Dancer Manisha Basu performing Ganesh Vandana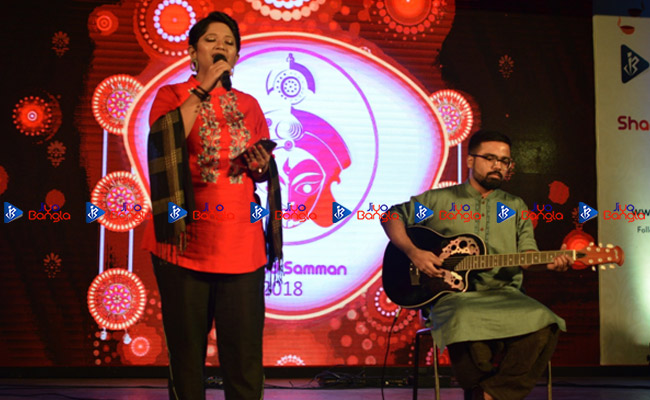 Singer Swati Suvra along with Biswajyoti during performance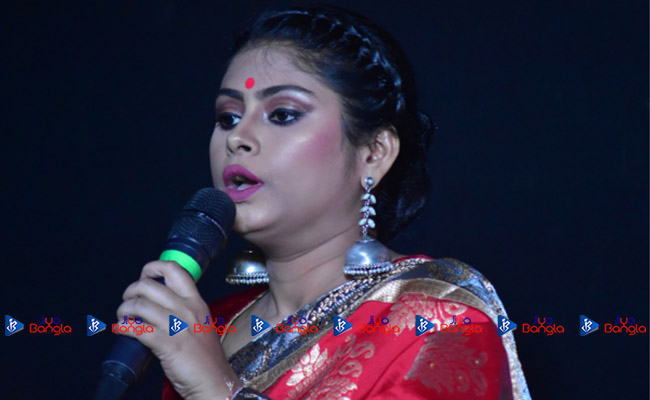 Arani Bhattacharya during the launch of 'Kabbo Kotha'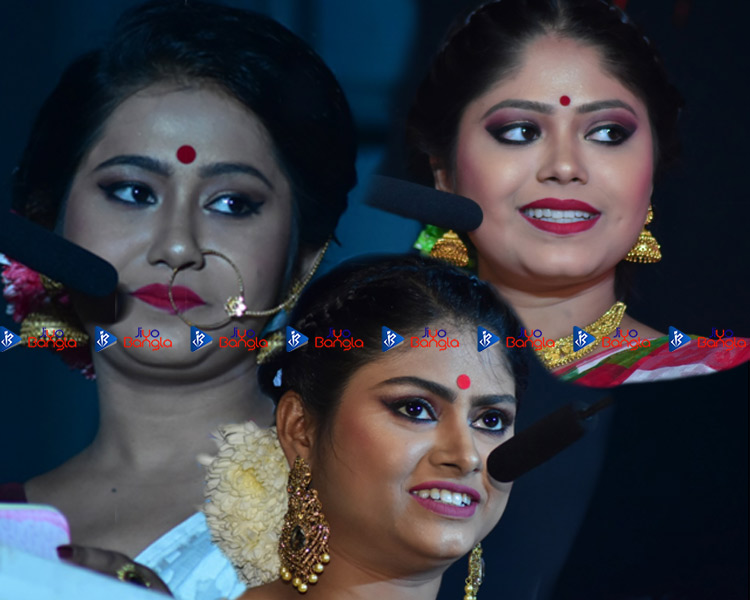 Anchors: Aratrika Dey, Megha Chakroborty and Arani Bhattacharya during the event
Apart from 'Rhythm Studio' and 'KabboKotha', our new venture 'Radio Jiyo' was launched so that now you can hear us from anywhere around the world without worrying about the frequencies!. During the award ceremony one book was launch titled as 'Jaane Zarur' by GST dost. The clubs were felicitated in the following categories:
Best Mandap Award (South)-Mudiali Club
Best Mandap Award (North)-ArjunpurAmraSobai Club
Best Socially Aware Pujo Award- Raipur Club
Best Lighting Award (South)-BhowanipurMuktadal
Best Lighting Award (North)- Dum Dum Park TarunSangha
Best Environment Friendly Award- Bandhudal Sporting Club
Best Pratima Award (South)-64 Pally
Best Pratima Award (North)-Md. Ali Park
Best Pratima Award (Howrah)-HowahTarunSamity
Best Budget Friendly Puja Award- Kalighat Nepal Bhattacharya Street
Best Budget Friendly Puja Award- BhawanipurSwadhinSangha
Best Socially Relevant Communication Award- BehalaBuroshibtalaJanakalyanSangha
Best Socially Relevant Communication Award- AurobindoSetuSarbojanin Durga Puja Committee
Best Socially Relevant Communication Award- DumDum Park Sarbojanin
Best Theme Award (South)-NandibaganSarbojaninDurgotsabSamity
Best Theme Award (North)-KumartulySarvojanin
Best Theme Award (Howrah)-OlabibiTalaSarbojonin
Special jury Award- Kalighat Milan Sangha
Special jury Award- Shibmandir
Special jury Award- ChaltabaganLohapattySarbojanin Durga Puja
Best Creative Thinking Award- Hazra Park Durgotsav
Best management Award- MasterdaSmritiSangha
Popular Choice award- BarishaSarbojoninDurgotsab
Kids' choice Award-MachuaBajarSarbajanik Durga Puja Samity
Best Digital Promotion Award- Baghajatin B and C Block Durgotsav Committee
Jiyo Bangla Special Award- UnnayaniSangha
Jiyo Bangla Viewer's Choice Award- Jubamaitry
Jiyo Bangla Viewer's Choice Award- North TridharaSarbojanin
Jiyo Bangla Viewer's Choice Award- NabapalliSanghaSarbojaninDurotsab (Charu Market)
Jiyo Bangla Viewer's Choice Award- Narasingha Avenue Association
Jiyo Bangla Viewer's Choice Award- Sangha Shree
Jiyo Bangla Viewer's Choice Award- Singhi Park
Probashi Award- Uttaran Bangiya Samity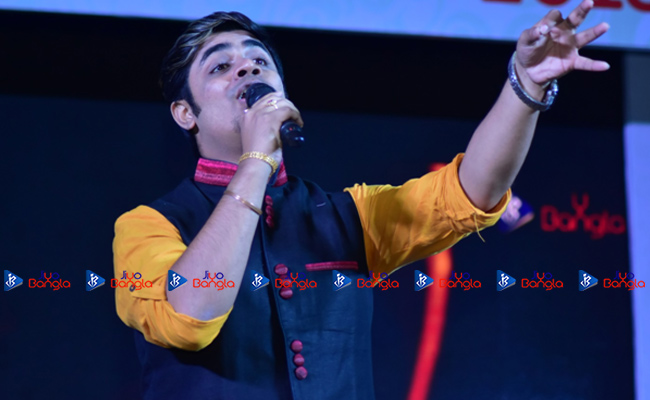 Singer Aritra during 'Rhythm Studio' launch
We are thankful to our audience who helped us make Jiyo Bangla Sharod Samman 2018 a success and we promise to reach new highs to keep you happy and celebrate our culture with many more colours next year.
Jiyo Bangla for 'Jiyo Bangla Sharod Samman 2018' was associated with RNJ, Arison, Lions Club, GST Dost, BookMy Accountant, MUMUSO, SRMB, KLJ Group, Shri Sai Shraddha Cements Pvt.Ltd, Pragati, Sampark, Samagya, Egiye Bangla, Concept 'N' Creation.
SPONSORS: