Suranjana Dam, a girl from the small town of Jalpaiguri-Mainaguri, received a call from the University of Cincinnati in Ohio, America, for research in chemistry along with an annual scholarship of 54 thousand dollars, which is worth about 45 lakh rupees in Indian currency.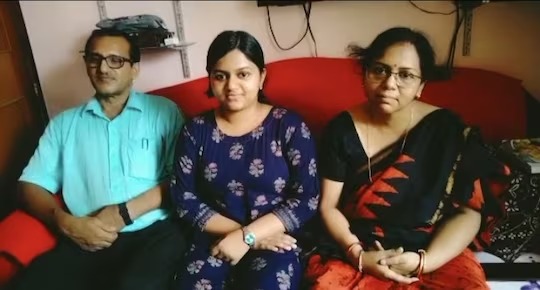 She will be going to America in the first week of August this year to conduct research on organic catalysts in organic chemistry. She will have to stay there for five years for this research.
Suranjana is a resident of the Debnagar area in Mainaguri town in Jalpaiguri district. Her father, Sukhmay Dam, is a doctor, and her mother, Sanjukta Sarkar Dam, is a teacher by profession. Currently, Suranjana is a student at the Indian Institute of Science Education and Research in Kolkata. Suranjana, since her childhood, has always done well in her studies.
Suranjana is very happy to have the opportunity to study in America. Her parents and her relatives, along with the people in her neighbourhood, became very proud of her, and they are very happy with her success.
She said that after completing the research, she wants to teach the new students the research work after returning to the country.