Ganesh Chaturthi or Vinayak Chaturthi is the celebration of new beginnings and togetherness in India, especially in Maharashtra, Goa, Gujarat, Madhya Pradesh, Chhattisgarh. Devotees all across the world celebrate Ganesha as the Lord of new beginnings and the Remover of obstacles.
"Sukhaharta Dukhaharta Varta Vignachi
Murvi Purvi Prem Kripa Jayachi"
With vibrant colors floating in the air, the spirit of excitement and anticipation is felt in every bit of this festival. From loud cheering of 'Ganpati Bappa Morya, Mangal Murti Morya' to dancing to Ganpati music, this festival gives everyone a chance to express their love and devotion with utmost zeal.
Much like other Hindu festivals, the extravaganza of the 10-day celebrations of Ganesh Chaturthi is usually kick started with some unique delicacies which is offered to the deity as prasad and one such delight is "MODAK". Sweet shops have counters lined up with variety of modaks, barfis and laddoos. Engaging into making such delights at home for Prasad is an auspicious way to so love and warmth.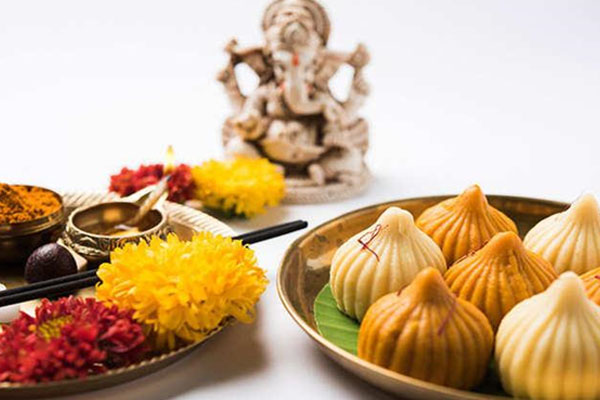 So here's how you can make the primary sweet dish during this festival, that is, Modak. A flavourful combination made of coconut and jaggery is stuffed into the 'modak' which is a dumpling made of rice and wheat.
To prepare this, dry roast some grated coconut in a pan and then take another pan to boil 1 cup water and add jaggery and allow it to dissolve.
When the jaggery starts to thicken, add the roasted coconut. Mix well and then add cardamom powder. After few minutes, turn off the flame and keep the mixture aside.
To prepare the dough, mix rice flour, 1 cup of hot water, Purti Rice Bran oil and salt together. Make sure the dough does not have lumps and is not too tight.
Now, take a portion of the dough and shape them into small cups. Add a spoonful of the coconut-jaggery filling and close the edges of the dough.
Cover and then steam cook the modaks until done.
Celebrate the festival with delicious homemade modaks, made with Purti Rice Bran oil, for your Ganesha. Visit https://www.purti.net
May the auspicious occasion of Ganesh Chaturthi bring good luck, prosperity and joy in your life. Happy Ganesh Chaturthi!