The FIH Hockey Men's Junior World Cup 2023, which will be held in Malaysia, was officially launched on Saturday during a ceremony that took place at the Mercure Living Hotel, Putrajaya, Malaysia.
India was handed a relatively easy draw this year, and they will start their campaign against South Korea in a Group C match on the opening day of the tournament on December 5.
The tournament will run from December 5 to December 16, with the matches taking place at the National Hockey Stadium Bukit Jalil in Malaysia.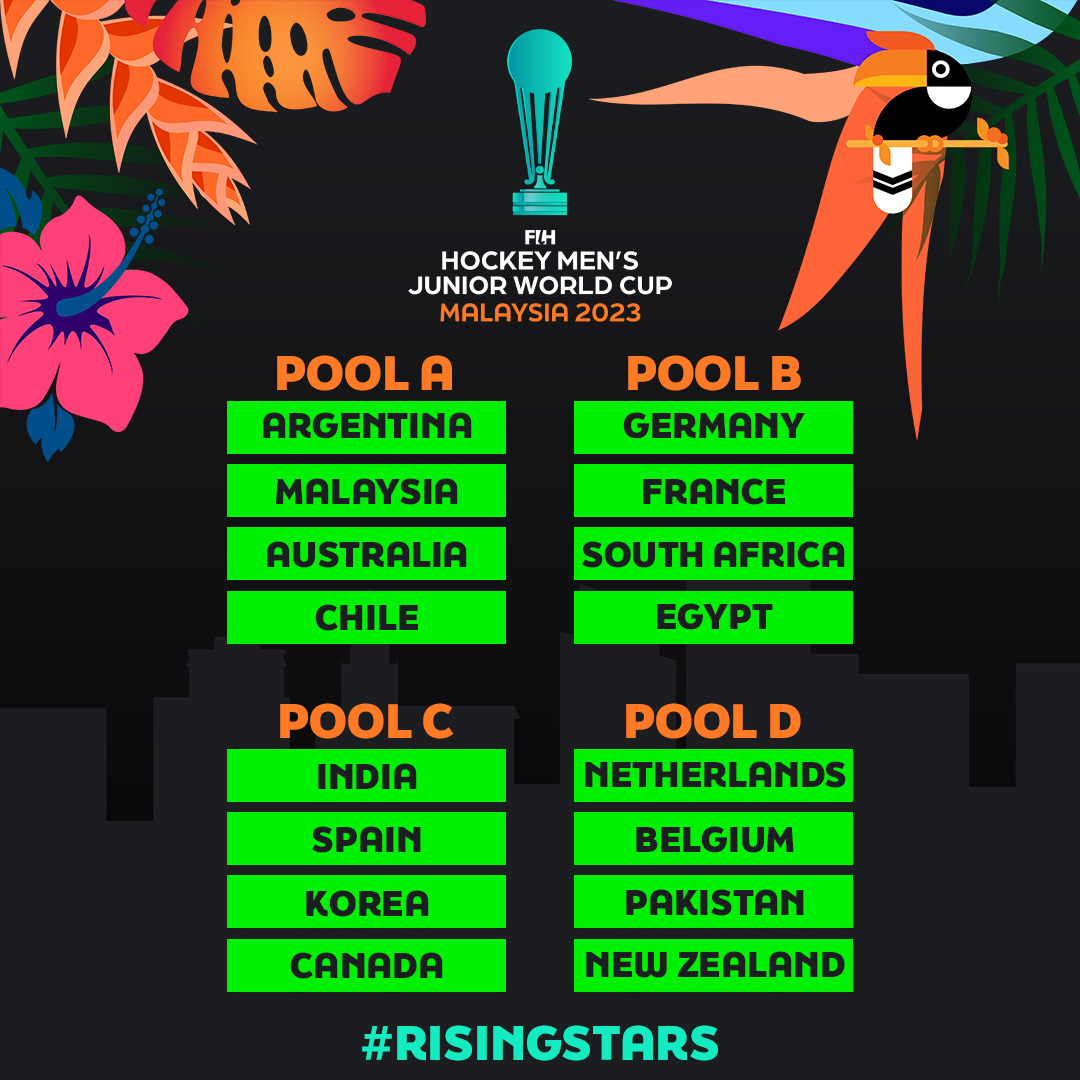 India will take on Spain on December 7 and end their group stage engagement against Canada on December 9.
Host Malaysia is in Group A with Argentina, Australia, and Chile. While Group B includes Germany, France, South Africa, and Egypt. The Netherlands, Belgium, Pakistan, and New Zealand are in Group D.
The sport's apex body said in a press release that the pools were established based on the first FIH junior world rankings. These 16 teams from around the world will be competing for the Championship Title.
Each Player competing in this World Cup must be under 21 years of age.
India won two titles, in 2001 and 2016, and besides Germany and Argentina, India is the only team to win the tournament on more than one occasion.
India's player, Uttam Singh, expressed his confidence about doing well in this tournament. He said, "With victories at the Sultan of Johor Cup and the Junior Asia Cup, the Indian team is brimming with optimism and is confident of a podium finish at the Junior World Cup in Malaysia. The passionate Malaysian spectators add an extra level of excitement to the event, and we can't wait to go there and do our best."
FIH President Tayyab Ikram delivered a message and congratulated the 16 teams that qualified to play in the 13th edition of the FIH Hockey Men's Junior World through a Video recording. He said, "Through its 'athletes first' approach, mentioned in the new Empowerment and Engagement strategy that was recently launched, FIH has made youth a strong focus going forward. The FIH Junior World Cups play a crucial role in this regard."
"Furthermore, as one of my priorities as FIH President is to highlight the powerful contributions hockey can make outside of the sport itself for individuals, communities, and society—with the important topic of sustainability being an integral part of this ambition—I look forward to seeing the ways this will be realised in this event."
"Special thanks to the Malaysian Hockey Confederation, as they will, as we know it, put together a fantastic show for this 13th edition of the FIH Hockey Men's Junior World Cup!"