Jiyo Bangla is all about flourishing Bengal and it intends to promote the positive aspects of Bengal. For which we have recently started a campaign 'সেরা বাঙ্গালী' (The Achievers) to bring out the success stories of people who have strong connections with Bengal. We believe this campaign will inspire the younger generation to be innovative and to leave a mark in their respective fields.
We are now going to present a success story of a person who is eternally connected to Bengal, especially Kolkata – the city of joy! Prithu Banerjee started his journey back in 2009 when he went to Sweden for pursuing a two year business management education course - 'Masters of Science in Finance' from the prestigious Gothenburg University. Since then there has been a lot of turbulence but never any looking back. Currently, Mr. Banerjee is the CEO of a Swedish IT consulting company 'Crepido' which was established 23 years ago and he happens to be the only employee of Indian origin in the company!
Jiyo Bangla feels proud to be able to interview Mr. Banerjee, an excerpt of which is given below!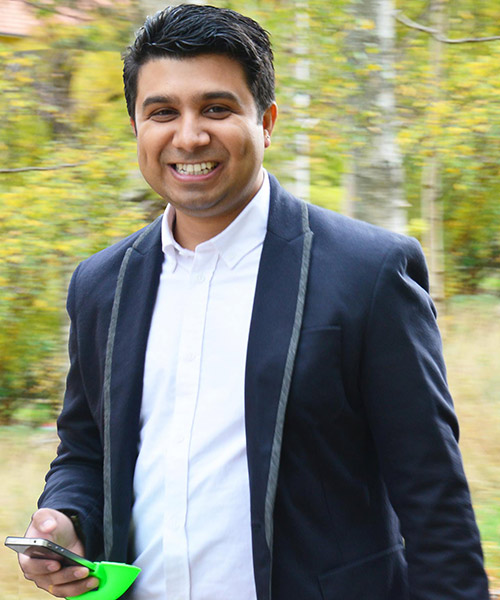 Mr. Prithu Banerjee, it is such a pleasure for Jiyo Bangla to be able to interview you! Why don't you share a snippet of your journey with our viewers/readers?
"I moved to Kerala from Kolkata in 2007 to work for a global IT company. A few months later as side hustle I launched a Start-up called 'HobbyGurukul.com'. I failed. I had an immense passion to create a service but somehow I was in the cocoon of comfort. I realised that to do something new I need to come out of my comfort zone. And I need to learn business. I came to Sweden in 2009 to pursue a two year business management education course - Masters of Science in Finance from the prestigious Gothenburg University, one of QS World ranked universities. I failed in the first trimester. It shocked me. I was a good student through my school and college back home, how did I fail? The answer was even more shocking. Back home we were used to read and memorize from the books and write our answers 'as close as possible' to the textbooks, here it was considered plagiarism. I was supposed to frame my own thoughts on every topic and cite and refer to the authors. I graduated in 2011 with a high score and nomination for the best thesis award of the year. Ambitious as I am, instead of focussing on finding a job as most students, I instead registered a company and stared working out of the business incubation lab of Chalmers University, another top rated university of Sweden. The ecommerce boom was on in 2011 and I ended up working with some of the companies which are now big and famous brands in Sweden. In 2012 I opened up an office in Kolkata, employed engineers from my own college but a year later I had to close. Another failure, why? Because I didn't know the Swedish language and I was very dependent on my partners in Sweden who perhaps had other ideas. You have to know the language if you are doing business. If you are doing business in Bengal you need to know Bengali, in Kerala you have to know Malayalam, in Sweden, you have to know Swedish. Because with knowledge of language comes knowledge about culture, which is necessary to network and close deals. Today I am employed as CEO of a Swedish IT consulting company established 23 years ago, I am the only employee of Indian origin so far, I speak Swedish fluently, my working language daily is Swedish, I address my employees in Swedish, I talk with my customers in Swedish and even converse with my kids in Swedish, though they understand Bengali, it's necessary to close some deals even with them".
What is your view on struggles?
"My story is not of success but of failure, because I love to bear my failures as my badges where I have learnt and I have grown as an individual. I struggled in each step, because I was raised in a middle-class family. My father was a businessman and was too proud to ask for help. What I have learnt through my experiences is that one should always ask for help. For, there are always people who will say 'yes' and who are just phone calls away. When I did miserably in education in first few months in Sweden a few of my local classmates helped me out to understand how I should write each answer. When I started my first company in Sweden, a local business management student helped me to make the first sales calls, free of cost".
What was your inspiration throughout this journey and how did you benefit from it?

"The inspiration was always there, to do something new, out of ordinary. I grew up in the countryside of Bihar in the 90s. And I always wanted to see the world. When I was at school, I had goals for high school in Kolkata, where my father had business. When I was in high school in Kolkata, I had goals of college in Delhi. When I was in college, I had goals of doing masters abroad. So there is a constant set of new goals which I set for myself, I achieve some, I don't achieve the most, but I keep on putting myself in uncomfortable positions. I would call my life changing decision is not about profession or education, it was rather marrying my college sweetheart Namrata, she was and is forever my support, not in a mushy 'I am here for you' way, but rather always challenging, always critiquing way which is her way of saying that ' I believe in you'! We got married in 2009, and have two kids Noyona Mia (5) and Freddie Priyo (3)!"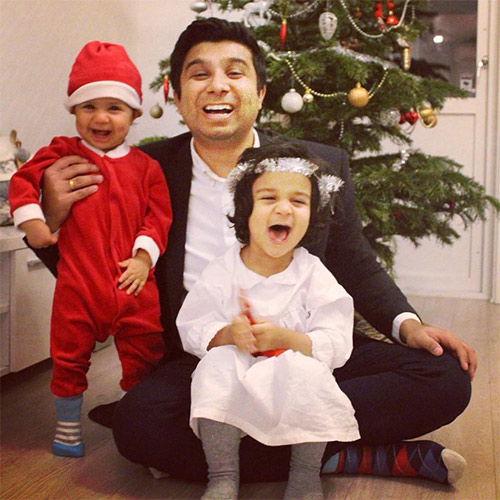 What kept you motivated?
"Thinking low about me keeps me motivated. There are many people who have done far better than me, in conditions much more challenging than mine. They are my source of motivation. It might sound crazy, but I was obsessed with the industry leaders since childhood, while my friends were collecting WWF cards, I used to read about different leaders, their thoughts, how they have impacted the economy and the world. And this was much before LinkedIn, before internet came in my life, I used to read business magazines, newspapers and memorize names of CEOs when I was in school. Still now I have the habit of knowing about the business ecosystem, stories about individuals who have made turnarounds keep me motivated".
How do you feel being successful?
"I feel good! Because it never comes easily to me. Success always takes long time for me, any success be it a project delivery or a deal. One should always celebrate success, be it small or big. It's a remembrance for a milestone in life; it's an emotion to cherish, to reflect on and to own, just like failures".
What would be your success mantra for others to follow?
"My success mantra is 'do more than what you think is enough'. Delivery is the key, personality wise I am a perfectionist, but when it comes to delivery MVP – Minimum Viable Product is the best way to go. Start producing small, and then build up on it. Also ask for help, something which I was not good at, but I always remind myself to speak up. Success comes from communicating, networking and helping each other, because it is never a one man game. One more thing is to have empathy, you can be very sharp, very intelligent and very good at your game, but if you want to lead, you need to bring empathy to the table. I joined as the CEO of Crepido in March 9, the first week in which COVID-19 started having a visible impact on the economy of Sweden. Being an IT consulting company, we are very dependent on the business of our clients, in Gothenburg its Volvo Cars, Volvo Trucks and Buses being the main players. We lost a chunk of our business as Volvo shut down production and sent consultants home. As a new CEO it became my first task to stabilize the company. Many consulting companies, in Gothenburg region started laying off people directly to cut costs. We, however, did the opposite, we offered our employees a collective agreement which entitled all of them to salaries even without projects, and also took them into a life insurance coverage program with high healthcare benefits. Today 3 months into the crisis which has affected organisations all over the world, Crepido even being a small company has close to 100% billing and each day we all start work with a sense of security. We have chosen to think empathically, and it has been a success as an organisation".