Burlington, the oldest Railway hospital of East Indian Railway, was constructed in year 1869 in Asansol. It was a solitary hospital of the region and served the medical need of divisional staff and their family members.
Burlington was a referral hospital and also served Royal forces during the Second World War.
The sprawling building has been constructed in Gothic style with arches and slanted tiled roof spanning 748 square meters. It comprises 12 big rooms, large central hall and one operation theatre.
The hospital was subsequently shifted to a new building in 1966 and Burlington was converted into residential quarters of medical staff.
The building, which once was an important landmark and pride of the city, had become old shadow of its glorious past with its dilapidated look and crumbling structure.
The entire building complex was thoroughly renovated and given a new lease of life. Work involved complete repair of damaged roof with water proofing, inside and outside repairing, attending damaged tiles and weather coat painting of entire building.
New electrical wirings were done and diffused lighting was provided to accentuate its aesthetics and architectural elegance.
Old curved tiles used for sewerage have been carefully preserved and are still in use. Rain water harvesting arrangements from roof and terrain have also been developed as part of sustainable development.
The entire area was spruced up and a beautiful garden along with lawn has been developed to recreate the old ambiance.
As a fitting tribute, the iconic structure has been renovated on its sesquicentennial anniversary after 150 years by the Asansol division of Eastern Railway.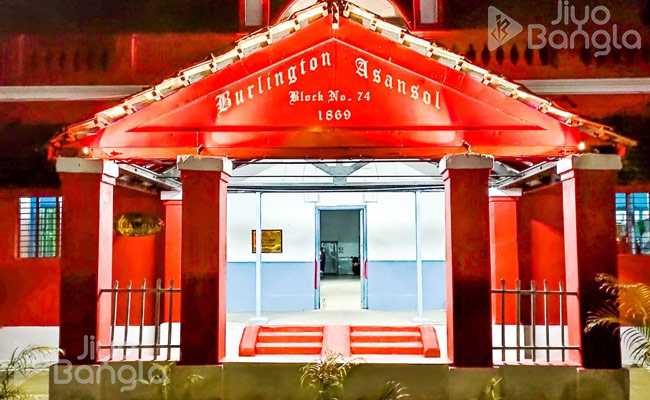 The renovated building majestically overlooking the Grand Trunk Road, with its enchanting colour scheme and architectural elegance has been resurrected as city landmark and its restoration is being widely appreciated by local populace and media alike.