A week after Diwali, Delhi and its adjoining states continues to be enshrouded under a thick blanket of dust and smoke. Although there was a marginal drop in the Air Quality Index (AQI), the pollution levels continued to remain critical.
The 24-hour average Air Quality Index (AQI) was 437 at 9:30 am on Monday. It had touched 494 around 4 pm on Sunday evening. The AQI value had shot up to nine times on Sunday. All government and private schools in Noida, Ghaziabad, Gurgaon and Faridabad will remain closed till Tuesday in the wake of spike in pollution levels, officials said. The administrations of Gautam Buddha Nagar and Ghaziabad stated the reason behind this decision are the levels of particulate matter 2.5 and 10 have been excessive in the air since Diwali, resulting in a major dip in the overall air quality.
"Transport vehicles like buses and minibuses, which a lot of schools use to ferry children, are a major contributor of PM 2.5 and PM 10. The movement of such vehicles in the city now could aggravate the situation," District Magistrate B N Singh said in a written order. A similar order was passed by Ghaziabad District Magistrate Ajay Shankar Pandey.The deteriorating air quality had affected flight operations in the capital. Nearly 32 flights were diverted from Delhi's Indira Gandhi International Airport due to low visibility. Studies have confirmed that the rapidly deteriorating air quality in Delhi – NCR region poses a serious health risk. Meanwhile the Delhi Government have issued a health advisory stating some Do's and Don'ts for the citizens to deal with the poor air quality.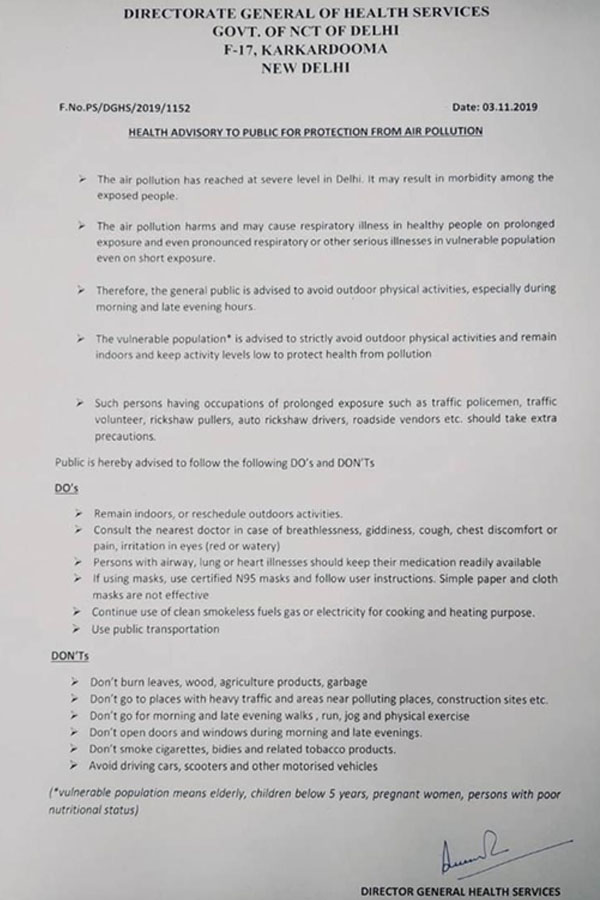 According to Central Pollution Control Board data, the average air quality index from Saturday to Sunday at 4 pm in Noida was 495, 482 in Greater Noida, 491 in Ghaziabad, 486 in Gurgaon and 496 in Faridabad, all in "severe" category.