In the realm of cricket, Sourav Ganguly stands as an iconic figure, bestowing numerous gifts upon the sport throughout his career. However, there remains one elusive prize that even Ganguly couldn't secure: the Cricket World Cup.
Two decades ago, the Indian cricket team faced Australia in a showdown that left hearts shattered across the nation. Fast forward to 2011, and the baton passed to Mahendra Singh Dhoni, who clinched the trophy, filling the void Ganguly couldn't. Now, in 2023, the opportunity for redemption falls into the hands of Rohit Sharma and his squad.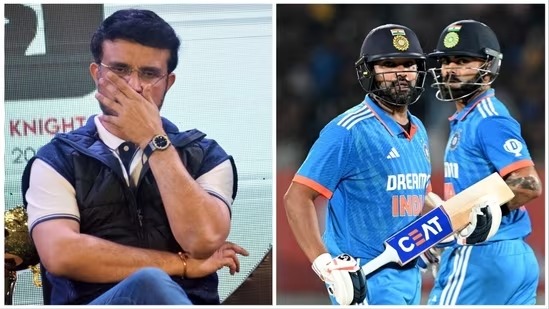 The echo of that fateful day in 2003 still resonates in the minds of cricket enthusiasts. Amidst the disappointment, a resolve was born. Cut to the present, and Rohit Sharma finds himself leading a team with a chance to rewrite history. The corporate box discussions took an unexpected turn as Sourav Ganguly declared, "Rohit's team will change the narrative of my 2003's loss."
Twenty years ago, emotions ran high as Indian cricket fans left the stadium with shattered hopes. The journey back from Johannesburg carried the weight of criticism. Nevertheless, history presented an opportunity—an opportunity to face Australia once more, but this time with an unstoppable force.
The turning point came in the semi-finals, as Australia faced defeat against South Africa, paving the way for India to secure the coveted World Cup ticket. The shadow of 2003 loomed large, and Sourav Ganguly expressed his hope, stating, "India is playing exceptional cricket, like champions. We faced an invincible Australia in 2003, but this Australia is not unbeatable."
Ganguly's sentiments resonate with the prayers of cricket enthusiasts, all waiting for Sunday's showdown. The celebration of victory could very well belong to India. Sourav Ganguly, now a part of the cricketing administration, noted, "Australia has evident weaknesses against spin, as seen in today's match. Rahul is observing that closely." Rahul, now the coach, adds another layer to the narrative.
The desire for redemption is not limited to Ganguly and Rahul; it resonates with many. If India emerges victorious this time, it will not merely be a triumph but a 'revenge' for every player who endured the heartbreak of 2003. Peace will finally settle in their hearts.
As the second opportunity unfolds for India, the onus lies on Rohit Sharma and his team. The stage is set, and it's time to let go of the past, embracing the challenge that lies ahead.