Indian cuisine is prominent across the globe for the use of a variety of exotic spices which can be found especially in India and pickles are a really important part of the Indian food culture. Most Indian cannot eat their meals without pickle or 'achaar' accompanying it. Pickling is an art of preserving fruits, vegetables, fish or meat with spices, salt and oil. The process of pickling is not as difficult as it may seem but the techniques of pickling and the finished product might vary from place to place.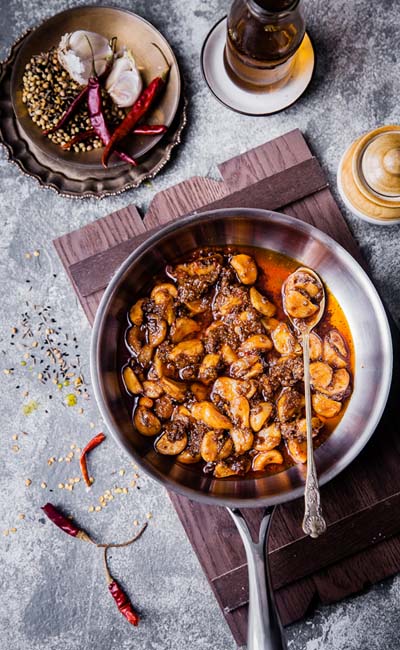 Pickle is the 'powerhouse of nutrition'. Having a tiny amount of pickle or achaar can actually benefit your health. Pickling is like a ritual performed every year, in all Indian households. The spices used make achaar rich in antioxidants and the 'hing' or asafetida used in pickle helps in respiratory disorders, lower sugar levels by pancreatic stimulation and also improves blood flow. Achaar is also high in vitamin K that prevents blood clotting in case of injury.
Mustard oil is the key ingredient of pickling in West Bengal. It is a traditional favorite in Bengal where its sharp and pungent flavor is deeply valued. It stimulates aid in digestion. Mustard oil is rich in monounsaturated fats (MUFA) and polyunsaturated fats (PUFA) as well as Omega-3 and Omega-6 fatty acids, which balances cholesterol levels in body and minimizes the risk of cardiovascular diseases. Oil also increases the shelf life of the pickle.
No Indian meal is complete without the added flavor of pickle. To make homemade pickle, choose fresh fruits and vegetables and use the best quality mustard oil so that it does not get rancid, visit https://www.purti.net/