BMA stainless Ltd, the makers of Captain TMT Bar on 17th September launched Durga Pujo song 'Joy Joy Durga Ma'. The song is composed and sung by Jeet Ganguli along with Abhijeet and Shaan.
However, this Durga Puja song was launched in the presence of former captain Sourav Ganguly, music composer Jeet Ganguly, director Raj Chakraborty, actor Bonny Sengupta and Avinash Agarwala, director of BMA Stainless Ltd. Well, this is for the first time from TMT Bar such an initiative has been taken in such a magnanimous scale.
We wanted to celebrate Durga Puja with the Bengalis across the globe and thus came up with the idea of a noble Sharadiya gift in form of a puja'r gaan which would reflect the resplendent Bengali culture and hues,
said Avinash Agarwalla proudly. Speaking about Sourav Ganguly, who will be seen in this 3 and half minute video matching his steps with Jeet Ganguly, Bonny, and other stars. Apart from these three male cast, actress Subhashree, Mimi Chakraborty and Nusrat Jahan will also be in this video. The lyrics of the song is by Priyo Chattopadhyay, composed by Jeet Ganguly, the whole song is choreographed by Baba Yadav and interestingly 'Moharaj' Sourav Ganguly lend his voice too. Director Raj Chakraborty revealed, "We approached almost everyone in Tollywood industry. Later we thought why not dada? He can play a part. I have already shot two puja songs. But it's different from other. But I must say dada is punctual."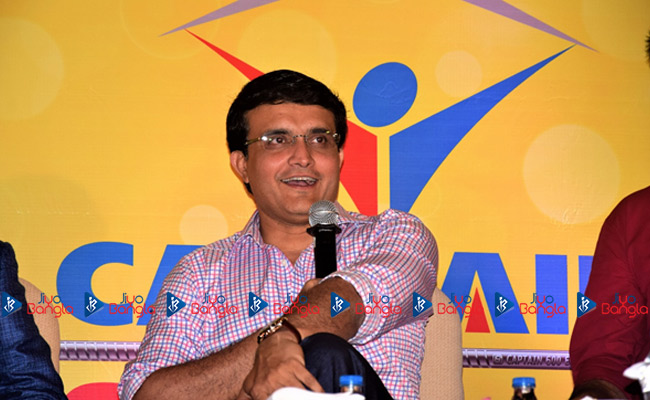 When asked, how was his experience for the music video? Sourav Ganguly giggled and said
It was hectic and terrifying, trust me. Playing on the ground and dancing is more like the north and south pole for me. Aami professional, commercial noi (I am professional, not a commercial person).
The audience will witness a grand cast in this album and will be available soon on youtube and other social media platform.