77 years of independence have passed. India is moving towards its centenary. Rabindra Nath Tagore is one of the pillars of freedom. The entire nation has been inspired by his writings. Nationalism has spread to all corners of the country. He is the only poet in the world whose two songs are the national anthems of two countries. There are many memories associated with this national anthem composition.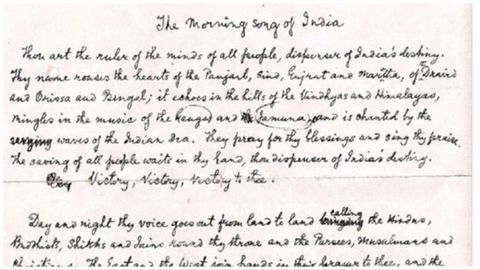 Rabindranath Tagore was the first Asian Nobel laureate to win a Nobel Prize in Literature in 1913. The original composition, titled 'Bharoto Bhagyo Bidhata', is a Brahmo hymn consisting of five verses, of which only the first verse has been adopted as the national anthem. This song was officially recognized in 1950. The poem 'Bharat-Vidhata' was first sung as a song in 1911 at the general meeting of the National Congress.
The English translation was done by Rabindranath Tagore himself on February 28, 1919, at the Besant Theosophical College in Madanapalle, a town in Andhra Pradesh's Chittoor district.
On Independence Day, Indians received a special gift from the Nobel Committee. The English translation of this song, written by Vishwakabi, was posted by the Nobel Committee. The Nobel committee paid special tribute to the poet by releasing the English translation written in his handwriting. The lyrics of Jana Gana Mana were first published in the Tatwabodhini Patrika, the official publication of the Brahmo Samaj.
Over the years, Jana Gana Mana has been translated into all 22 national languages of India and many regional languages.
Even after so many years of independence, Kabiguru is still relevant.