Independence Day is one such occasion that awakens patriotism in the hearts of all Indians. From hoisting the national flag to preparing different delicacies, we commemorate this day in innumerable ways. India is a country with a rich heritage, vibrant culture and delightfully rich flavours and palates ranging from one state to another.
Since this day is all about celebrating the country's freedom and with tricolour being the centre of it all, what is better than preparing tricolour themed dishes to commemorate this day? Here's a list of delicious and appetizing recipes which are easy to cook at home!
1.PANEER CHEESE TIKKA
An easy-peasy recipe for all you vegetarians, this is one of the most delicious dishes to snack on when you're chilling in the evening of Independence Day. It is coated with coriander and red chutney and pan-roasted in Purti Vanaspati.
2.TRICOLOR SEEKH KEBAB
Seekh kebab recipe to prepare at home that is packed with cheese, coriander, black pepper, onion, green chillies and ginger. These mouth-watering kebabs, shallow-fried in Purti sunflower oil to perfection are sure to satiate all your cravings.
3.TIRANGA MOMOS
Who doesn't like steaming hot momos? This north-eastern delight is a favourite of almost all and is perfect for the monsoon evenings. Stuff it with a filling that you like- be it meat, chicken or veggies, and then seal in tricolour dough made with spinach, flour and carrot. Make sure to sauté the stuff with Purti sunflower oil.
4.TRICOLOUR BIRYANI
Biryani is one such delicacy that an Indian cannot resist and it becomes even more irresistible if a patriotic fervour is added to the recipe. Saffron and green food colour can be used to give it a colourful look. Add Purti Vanaspati ghee just before serving to give in an aromatic flavour.
5.TRICOLOUR MACAROONS
Any meal is incomplete without desserts so make sure to make sweets this festive season. Macaroons are usually found in different flavours and colours but now you can make it at home, this Independence Day, without any hassle. Packed with creamy cheese-filling in our nation's tricolour, who wouldn't want to indulge into macaroons?
6.TRICOLOUR CREAMY CHEESECAKE
Cheesecakes have a crunchy base made of biscuits, mixed with butter and layered with a thick creamy cheese mix on top. To give it an Indian tinge you can use Purti Vanaspati instead of butter as well. Tricolour cheesecakes can be made with added colours , and would surely attract the crowd.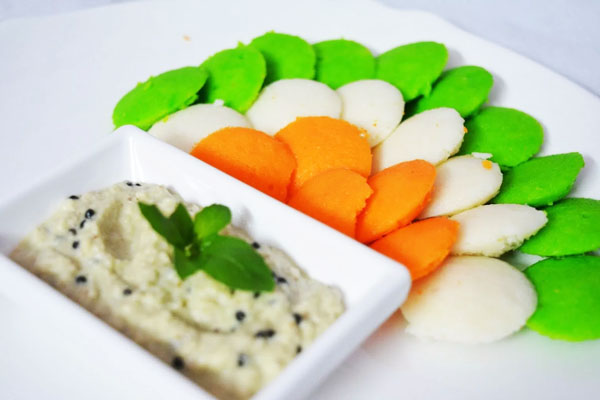 Colourful and vibrant food, not only makes the food look appealing but can also highly satisfy your taste buds. So, this Independence Day, don't forget to please your loved ones with these amazing tricolour recipes made with Purti Vanaspati as well as oil. To get yourself Purti Vanaspati or Oil, visit https://www.purti.net