Jhulan Yatra, or Jhulan Purnima, is an important festival of Hinduism, especially for Vaishnavs. This festival starts on Ekadashi and lasts until Purnima. After Dol Purnima, another big festival for Vaishnavas takes place.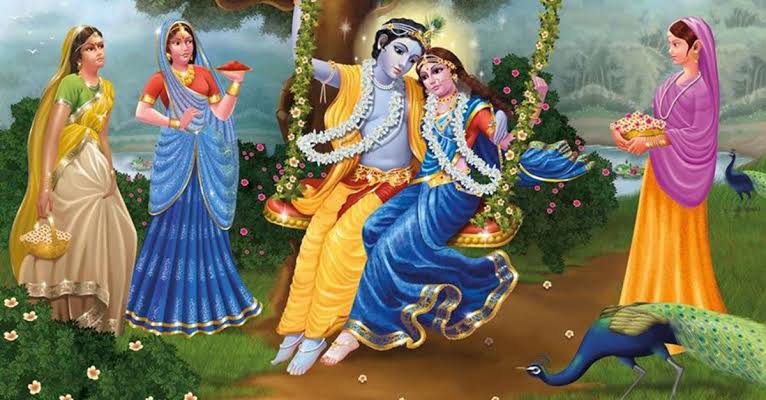 The swing festival started in the Dwapara era and was centered on Radhakrishna's childhood memory of swinging with friends in Vrindavan. Jhulan is basically a festival of love and passion during the rainy season of Radhakrishna. Today, apart from Vrindavan, this festival is celebrated with great pomp in Mathura, Nabadwip, Mayapur, and other places of Vaishnava religion in the world.
When will Jhulan Jatra start this year?
According to the Guptapresh Panjika, 8 Bhadra, 26 August 2023, Saturday, ie., today Jhulanatra started. Ends on 12 Bhadra, August 30, 2023, Wednesday. Ekadashi Tithi begins on 9 Bhadra, 1430 Bengal. The starting time is at night: 12 hours, 10 minutes. Shri Krishna's jhulanayatra started at Papradosh. Ekadashi Tithi, Last 10 Bhadra, Sunday, August 27, Sunday, The end time is 9:33 PM.
There is a famous saying in Vrindavan that every day is a festival in Vrindavan. For this reason, people always come to the temple of Vrindavan and await the Lord's darshan. Apart from this, all the festivals of Braj also attract devotees from all over the world. Sri Radharaman Temple is one of the oldest temples in Vrindavan. Also, this temple belongs to Sapta Devalaya. Lord Jhulan Mohotsav started at Hariyali Teej in this temple.
The deity is placed in a separate cradle every third day of this festival. Apart from this, many miraculous features of God these days are seen only during this Jhulan festival. Chandrakumar Goswami said that God is also given special pleasure during the Jhulan festival. Mandir Sevayat Radhakanta Goswami said that Lord Sri Radharman's Hariyali Teej Jhulan Mahotsav started. It is also known as the Hindol festival. This will continue until Raksha Bandhan.