Director SS Rajamouli, known for blockbusters like 'Bahubali' and Oscar-winning 'RRR,' has announced the title of his upcoming film. The film is titled 'Made in India,' and it promises to be a unique cinematic experience.
According to reports, 'Made in India' will tell the incredible story of Indian cinema, starting from its inception with Dadasaheb Phalke to the rise of legendary Bengali filmmaker Hiralal Sen. The film aims to bring to life the dreams and struggles of those who made the impossible possible in the world of Indian cinema. SS Rajamouli is set to explore the genre of Indian cinema's biopic.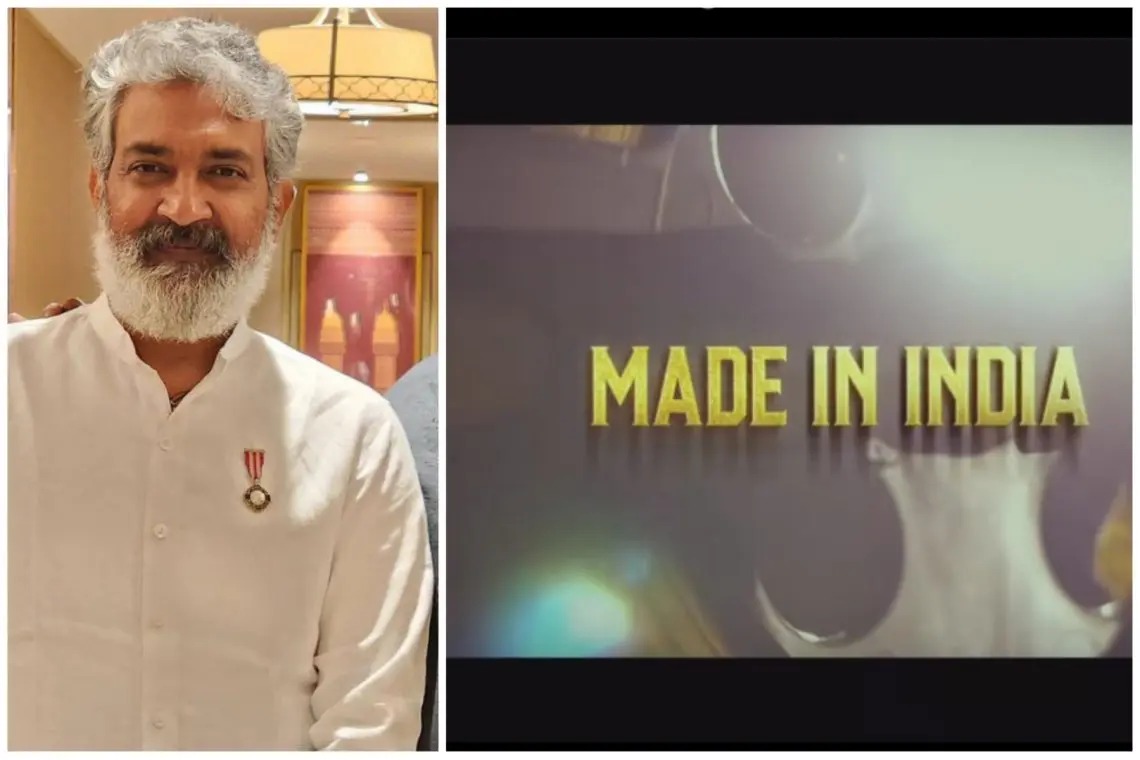 The film will cover the entire spectrum of Indian movies, from their humble beginnings to their growth, encompassing a wide range of stories. National Award-winning filmmaker Neeraj Kakkar will be helming the project. Additionally, the film will feature the talents of Varun Gupta and SS Rajamouli's son.
Before 'Made in India,' Neeraj Kakkar has worked on films like 'Filmistaan,' the Hindi remake of 'Pelli Choopulu' titled 'Mitron,' and 'Notebook.' He has also directed films like 'Jawaani Jaaneman' and 'Ram Singh Charlie.'
Recently, director SS Rajamouli shared the first look of 'Made in India' on his social media. In the caption, he wrote, "When I first heard the narration, it moved me emotionally like nothing else.
Making a biopic is tough in itself, but conceiving one about the FATHER OF INDIAN CINEMA is even more challenging. Our boys are ready and up for it..:)
With immense pride, Presenting MADE IN INDIA…"
He expressed his deep inspiration upon hearing the initial script and acknowledged the immense challenge of creating a biopic, especially one as demanding as 'Father of Indian Cinema.' He praised the team for taking on this task with great pride.
Furthermore, there is exciting news that SS Rajamouli is collaborating with South Indian actor Mahesh Babu for the first time. While the authenticity of this news is yet to be confirmed, it has generated tremendous anticipation among cinema lovers. It's worth noting that many actors who have worked with Rajamouli in the past have witnessed significant career milestones in their respective filmographies.
The teaser announcement of 'Made in India' has left many fans hopeful for a fresh and groundbreaking cinematic experience. It is reported that the film will be released in seven languages, including Hindi, Marathi, Telugu, Tamil, Malayalam, and Kannada.
In conclusion, 'Made in India' promises to be a cinematic journey that celebrates the rich and diverse history of Indian cinema, and it marks an exciting collaboration between SS Rajamouli and Neeraj Kakkar. With its ambitious scope and multi-language release, the film has already piqued the interest of movie enthusiasts across the country.