Geeta Kale, a domestic help residing in Pune, has become an internet sensation overnight. How? It all started by a kind gesture by her employer who designed a visiting card for her, when Geeta lost one of her many jobs. The job of a domestic help is probably from one of the most thankless jobs in our country. Our daily lives run smoothly because of their help, and still we do not seem to appreciate them enough. To instil a sense of dignity and recognition in this profession, a Pune - based digital marketing executive, Dhanashree Shinde, did something unbelievable for her maid, which turned out to be an instant hit.
The incredible story of Geeta Kale and Dhanashree Shinde was shared on Facebook by Asmita Javdekar two days ago, where it has gone viral. One day, Dhanashree returned home after work and she found Kale sad and dejected as she has lost one of her jobs. This meant 'financial loss' closed to Rs 4000 a month.
Dhanashree was equally distressed from the incident and decided to help Kale. While Kale was working in the kitchen, Dhanashree browsed through her phone. She came up with an idea and putting her "branding skills to good use", she designed a visiting card for Kale, within four hours.
"I called her from the kitchen and asked her to sit beside me to note down the rates of her household chores. In the next two minutes, the card design was ready. To it, I added a small line saying 'Aadhaar Card verified' to let people gain confidence in her. I place the order for 100 cards and we received a bunch of cards after two days. I gave her the cards and asked her to distribute it to a few watchmen of nearby societies," Shinde told. The card read- "Ghar Kaam Maushi in Bavdhan; Aadhar Card verified".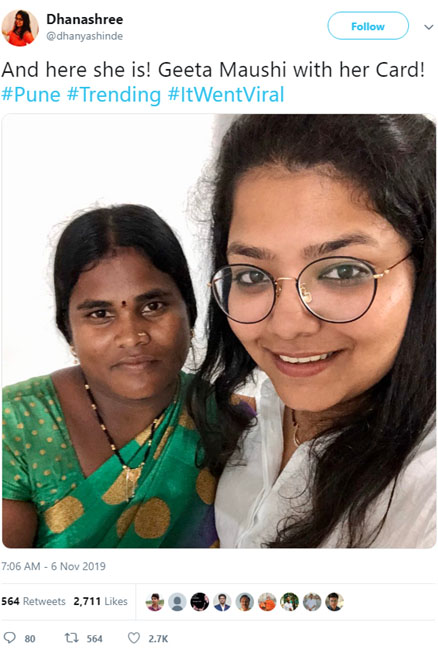 Meanwhile, Dhanashree had clicked a picture of the visiting card and send it to her friends from where it went viral. Kale received calls and job offers from all over India. Not just job offers, "Red FM was trying to reach maushi, news channels were vying to cover her story and WhatsApp was going berserk!!" stated Shinde.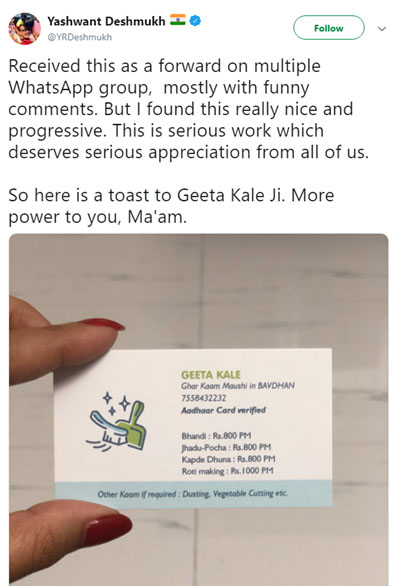 A picture of the visitng card was shared by Yashwant Deshmukh, who wrote, 'Received this as a forward on multiple WhatsApp group, mostly with funny comments. But I found this really nice and progressive. This is serious work which deserves serious appreciation from all of us. So here is a toast to Geeta Kale Ji. More power to you, Ma'am.