In just a few days, the much-anticipated wedding of Parineeti Chopra and Raghav Chadha will be taking place. It has been confirmed that this star-studded couple will tie the knot on September 24 at the picturesque Taj Lake Palace and Leela Palace in Udaipur, Rajasthan. The wedding festivities have been making headlines ever since Parineeti and Raghav's wedding invitations went viral on social media.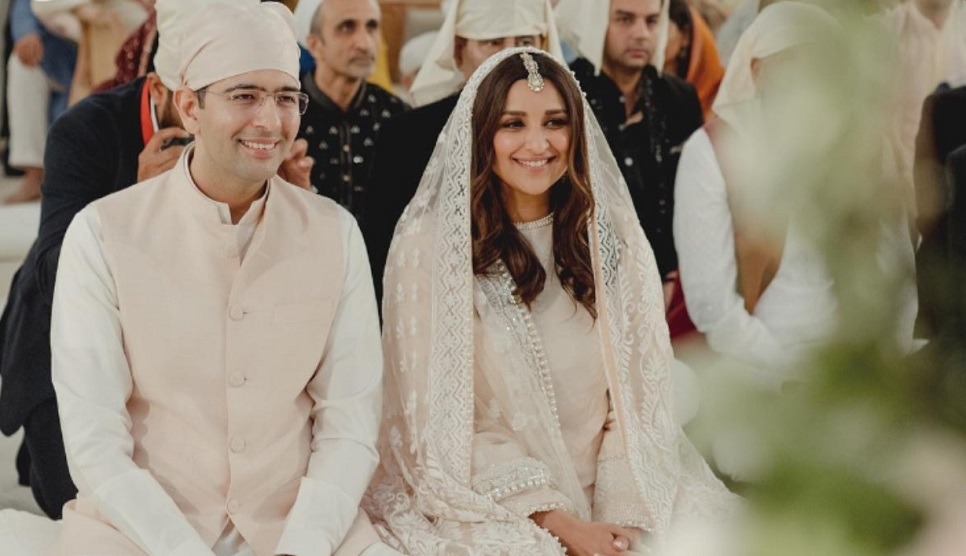 The journey towards their wedding began earlier this year when the couple hosted a grand engagement ceremony at Kapurthala House in Delhi on May 13th. Now, they are all set to embark on the next chapter of their love story—their wedding.
From the beginning to the end, all the details of Raghav and Parineeti's wedding have been unveiled for their fans and well-wishers to savour.
The pre-wedding rituals for Parineeti and Raghav will kick off on the morning of September 23rd at 10 a.m. with the 'Choora' ceremony. This ceremony marks the beginning of their wedding celebrations and will include various traditional customs and rituals. A lavish midday feast has been arranged for the guests, and in the evening, a spectacular event will bring the day to a close, with the newlyweds and their families in attendance. The theme for this event is 'Let's Party Like It's the 90s.'
The following day, on the 24th of September, the 'Sehra Bandi' ceremony for Raghav will begin at 1p.m. at the Taj Lake Palace. The theme for this event is 'Threads of Blessings.' Afterward, the baraat procession will commence at 2p.m., with a theme of 'Divine Promises: A Pearl White Indian Wedding,' as Raghav makes his way to the Leela Palace.
The wedding day will be filled with various ceremonies, including 'Jaimala' at 3 PM, followed by 'Saat Phere' at 4 PM. The grand finale, the 'Bidaai,' will take place at 6 p.m. To conclude this memorable day, a late-night 'Reception Party' will kick off at 8 PM in the hotel with the theme 'A Night of Amore.'
On another note, details of the wedding menu have also been revealed. The menu boasts a delightful array of Indian cuisine, from Punjabi dishes to North Indian flavors. Since Parineeti prefers Italian cuisine, a variety of Italian dishes will also be featured on the menu. Additionally, a sweet tooth will be satisfied with a collection of approximately 12 types of desserts, including Motichur Laddu, Halwa, Gulab Jamun, Jalebi, and Kesari Kheer.
It has also been reported that special surprise boxes have been prepared for the guests, which will be handed out before the wedding. However, the contents of these surprise boxes remain a closely guarded secret.