Celebrating women power, Merchant Chamber of Commerce and Industry (MCCI) and MCCI Ladies Forum (MLF) organized 'MCCI-MLF Forum on Women Achievers – Showcasing Excellence in Fashion & Creativity' on Friday. Speakers included celebrated fashion designers Sharbari Datta, and Agnimitra Paul, social entrepreneur Malika Varma, and food expert and restaurateur Sneha Singhi.
Datta noticed the gaping hole in the ethnic wear choices for men and decided to step in to bridge the gap. Her men's wear thundered into the fashion landscape like an irresistible gust of wind and blew away age-old notions of the can and can't and left everybody breathless. Datta is the first designer to have revived and brought to the forefront men's ethnic wear in India and she has given 'kantha' traditional handicraft of rural Bengal a facelift by making it cool, trendy and fashionable. Datta is credited with the revival of men's ethnic wear and bringing it to the forefront in India.
Datta said that when she started her career in 1991, no one thought that designing menswear could be a viable career. Her love for her heritage enabled her to design men's fashion and she is a self-taught designer. Datta designs directly on cloth and she does not use any references. She does not employ any creative assistants. Even today, there are no fashion designers creating exclusively for men.
Paul started her career in 1997 with her designer label 'INGA'. Her designer ensembles are displayed at many prominent exhibitions. Celebrities from both the Mumbai and Kolkata film industries feel proud to wear her signature labels.
She is a designer with a difference. She started a project in Kolkata's Alipore Correctional Home where she teaches stitching to female convicts and gives them work. Paul is the brand ambassador of Loreto Rainbow Homes where slum children receive skill development, education, employment, shelter, and security.
Paul has taken fashion to a different level and she believes in fashion for a cause, fashion for the people. She has successfully raised money for different causes by auctioning her clothes. She prefers to walk the ramp with poor artisans as show stoppers rather than celebrities.
She said that after working for 23 years, she wanted to do something for the society and she liked working for a cause. She wanted her shows to create awareness. She has also started a project in Sundarbans where she teaches stitching to underprivileged women.
Varma, founded 'Malika's Kantha Collection' to revive and retail the heritage hand embroidery of Bengal. She is the trustee and director of SHE Foundation which is working for the empowerment of women in villages. She is also trustee and director of 'Calcutta Foundation' which is involved in social work.
Varma said that her Mother taught her to realize that she was fortunate but she should be aware of economic disparities. She now supports 800 to 1,000 girls through Self Help Enterprise (SHE Foundation) and her kantha business.
Singhi is Le Cordon Bleu Paris-trained patisserie and culinary chef. She recollected how she became a culinary expert and pastry chef despite initial opposition from her father. She thanked her mother for always reposing faith in her abilities. She now runs six Paris Cafes in Kolkata.
Prapti Jhajharia, chairperson, MCCI Ladies Forum (MLF) in her welcome address said that women leaders only make up 25 percent of the senior level positions within the industry. Gender parity is an elusive goal for many industries and fashion is no exception, with men disproportionately dominating top roles across all areas of business. It is a particularly ironic state of affairs for an industry where women make up the overwhelming majority of the consumer base. Paris and Milan often considered the most traditional fashion weeks, where many of the oldest and most prestigious brands are shown to have the lowest proportion of female designers.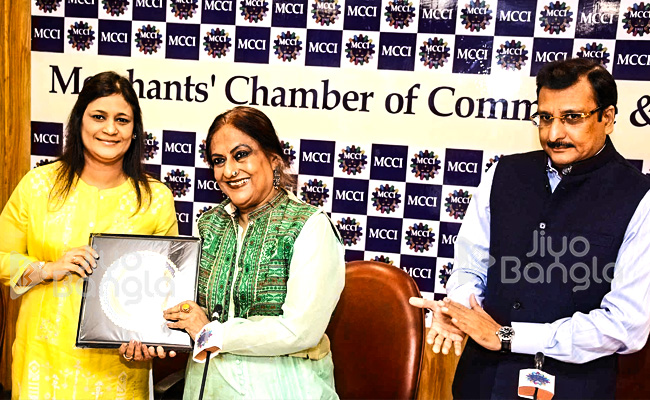 Ms. Prapti Jhajharia, Chairperson, MCCI Ladies Forum (MLF); presented a memento to Ms. Sharbari Datta, Fashion Designer. On her left, Mr. Vishal Jhajharia, President, MCCI.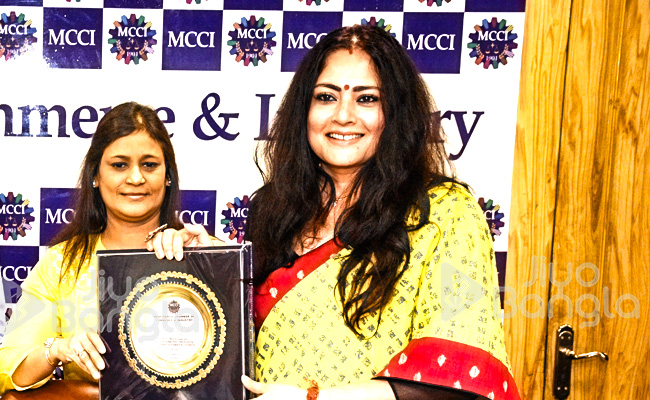 Ms. Prapti Jhajharia, Chairperson, MCCI Ladies Forum (MLF); presented a memento to Ms. Agnimitra Paul, Fashion Designer.