Blooming Cherry has organized a football tournament titled 'Blooming Cherry Football Tournament 2018' on 30th June and 1st July, 2018. It has been arranged at New Town School Ground, Rajarhat. Jiyo Bangla, being the proud digital partner of this event, is rather thrilled at the association.
The tournament will have 32 teams battling for the top prize of Rs.25, 000. The tournament will only hold knockout matches. Prize money for the runner-up is Rs.15, 000. Moreover, there is an individual prize of Rs.5, 000 each for the best defender and top scorer. All the matches will have accolades of 'Man of the Match' who will receive a discrete medal.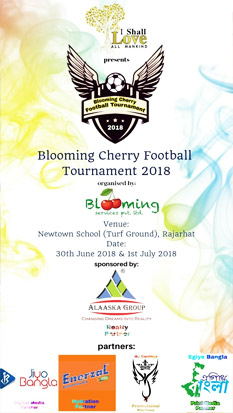 The 2-day contest is packed with a lot of action and surprise gifts. So the anticipation will be double as, alongside the FIFA World Cup in Russia, Kolkata will be hosting its very own football tournament with relative grandeur.
For football zealots of this city, this are definitely good tidings!