Vidyanjali High School, which is more commonly known as Shree Bhawanipur Gujarati Balmandir had recently organised a program on the occasion of the school completing 75 years and also to celebrate the founder, Shantaben Patel's 100th Birth Anniversary. The program was conducted on 9th August 2019 at Gyan Manch.
Shantaben Patel, a noted educationist and independence activist, contributed not only in founding of the school but also efficiently running the school for 60 years. An inter-school patriotic song competition was organised to honour Shantaben, where 12 schools of the city had participated including Vidyanjali High School.
"With the 72nd Indian Independence Day being around the corner, we organised a small event to encourage the feeling of patriotism in the young minds of the city. The event was mainly organised in the memory of Shantaben Patel, founder and member of Shree Bhawanipur Gujarati Balmandir. Other schools had participated as well which made the program even more successful", said Mrs. Ushaben Desai, President of the Managing Committee of the school.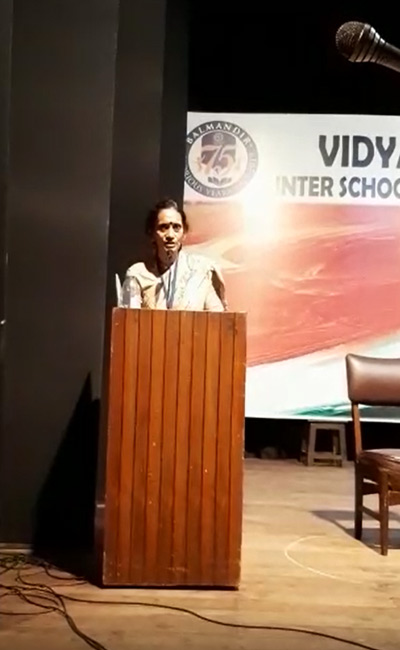 The guest of honour for the day was Mr. Ashim Bose, Councillor Ward No.70 and other chief guests present, were Smt. Induben Doshi , Smt. Bhavnaben Shah and Smt. Preetiben Patel. Eminent personalities from the music fraternity- Smt Pramita Mullick and Shri Parnavo Banerjee were invited to judge the students who sang patriotic songs on this special day.