In a stunning display of skill and determination, India's women's hockey team has secured a spot in the semifinals of the Asian Games, leaving their mark not only as formidable competitors but also as a beacon of hope for women in sports. Their latest triumph came as they triumphed over Hong Kong with a resounding 13-0 victory.
Having clinched victories in all four matches of Group A, India's women have solidified their place in the semifinals. The team's stellar performance throughout the group stage has raised hopes of a golden finish in this year's Asian Games.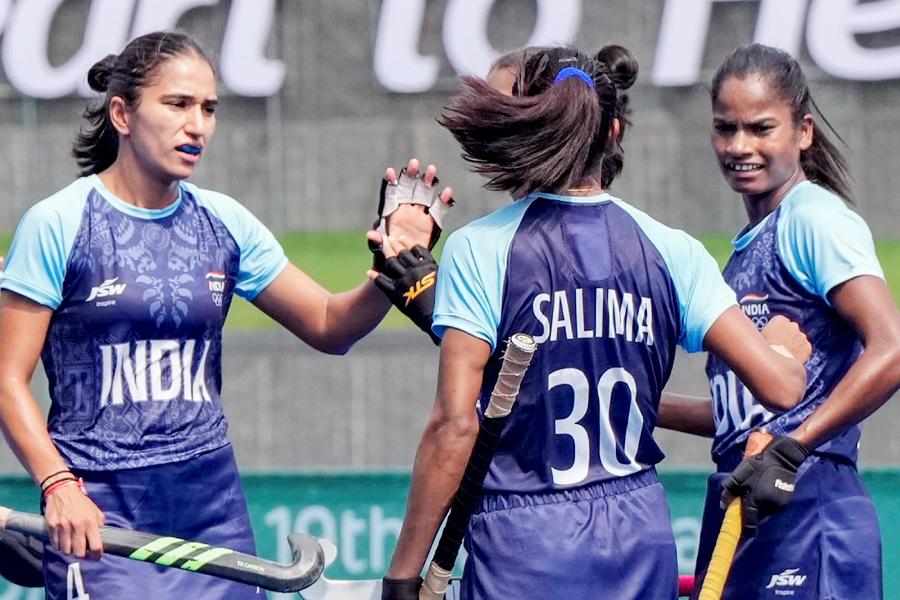 Vandana Kataria, one of India's striking stars, delivered a remarkable performance in today's match, securing a hat-trick. Her incredible form on the field was evident as she scored goals in the 2nd, 16th, and 48th minutes. Deep Grace added to the scoreboard with goals in the 11th, 34th, and 42nd minutes, while Deepika netted goals in the 4th, 54th, and 58th minutes. Sangeeta Kumari, Manika, and Navneet Kaur also contributed with goals, sealing India's victory for the day.
With ten points earned from their four matches, India currently holds the top position in Group A. South Korea, with seven points from three matches, is closely trailing in second place. Malaysia, with six points from three matches, is also in the running for a semifinal spot.
The upcoming clash between Malaysia and South Korea will determine the final standings in the group. A victory for Malaysia would secure their place in the semifinals, while a win for South Korea would see them through to the next stage.
Meanwhile, in the other group, Japan and China are vying for the top two spots. The outcome of their remaining match will determine the other two semifinalists. The competition is fierce, and the anticipation is building as teams battle for coveted spots in the semifinals.
On the men's side, India's semifinal showdown is set for Wednesday against South Korea. In the other group, China and Japan are locked in their own battle for supremacy. India has emerged as a dominant force in the group stage, scoring an impressive 53 goals in their matches.
The stage is set for an exciting conclusion to the field hockey events at the Asian Games. The men's hockey final will take place on October 6th, followed by the women's hockey final the next day. India's remarkable journey in the tournament has already captured hearts and imaginations, and the nation eagerly awaits the chance to witness history in the making.