In a much-anticipated clash, India and Australia faced off in the World Cup final after a 20-year hiatus. Despite India securing a chance for a World Cup victory on home soil after 12 years, the joyous moment slipped through their fingers, leaving fans disheartened.
In a déjà vu of the 2003 World Cup, where India triumphed over the Netherlands only to face defeat against Australia, history seemed to repeat itself. The disappointment echoed on the cricket field, but what did the Bollywood and Tollywood celebrities said?
From Tolly to Bolly, stars expressed their sentiments post-match. Renowned playback singer Indradeep Dasgupta stated, "Stepping aside from Bengali cinema to stand by Indian athletes, in moments of defeat, we stand strong with Team India."
On the other hand, Bollywood actor Ayushmann Khurrana posted on social media, writing, "Just a bad day at the office @indiancricketteam 😔🇮🇳
You guys will always be remembered as the toughest side of #WorldCup2023 💪 Thank you for the adrenaline!Well played! 🙌🇮🇳"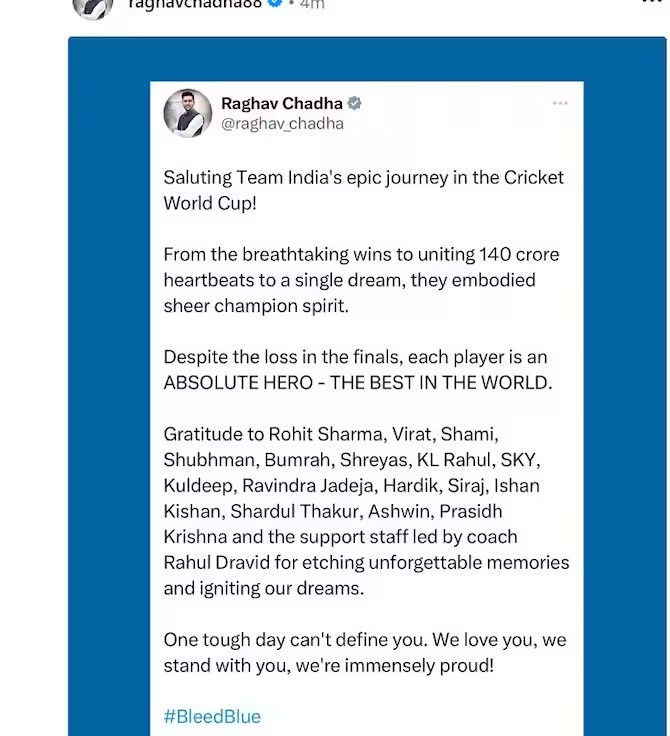 Actress Parineeti Chopra's husband, Raghav Chadha, took to social media post-defeat, saluting Team India and leaving a note of encouragement. Meanwhile, Amit Trivedi penned a lengthy post expressing his hope for' Men in Blue' to emerge stronger.
Prior to the game, actors Kajol and Ajay Devgn shared their love for the match, sending best wishes to Team India. Devotees like Upasana and her husband Ram Charan flooded social media, sharing pictures in Indian jerseys and showcasing unwavering support for the team.
While playback singer Darshan Raval shared a picture of the Indian cricket team, he wrote, "Well Played Team India 💙 Love you always..Agli Baar ✨" However, singer Vishal Mishra conveyed deep sorrow through a broken heart emoji on social media after India's defeat.
Despite the sorrow of every celebrity witnessing India's World Cup dreams shatter, there was a unanimous message of support and faith in the team's resilience. As they say, in the game of cricket, the spirit endures beyond victories and defeats.