In a triumphant display of athleticism, the Indian contingent has emerged victorious at the 19th Asian Games. Each morning brings news of yet another medal being added to India's tally, filling the nation with pride. Currently, India stands in the fourth position in the medal rankings, a testament to their outstanding performance.
India's medal haul at the Asian Games now boasts an impressive total of 60 medals, including 13 gold, 24 silver, and 23 bronze. The athletes, with their exceptional performances, have brought glory to the nation. India currently holds the fourth position in the medal rankings, a remarkable achievement.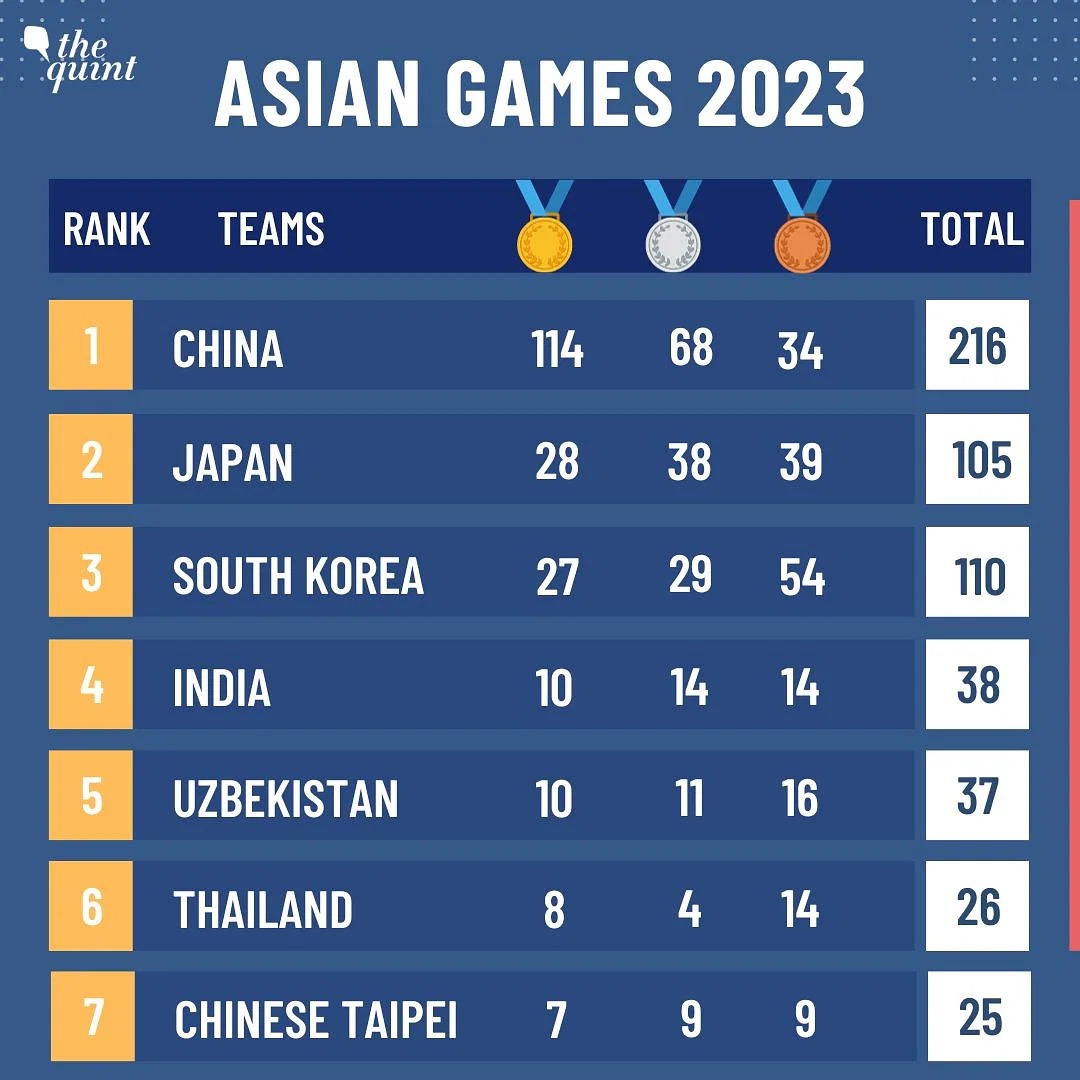 Setting their sights on a target of 100 medals, Indian athletes are determined to achieve new heights. Shooting has been particularly prolific, contributing 22 medals to India's tally, including an impressive 7 golds. Shooters have shone brightly at the Asian Games, securing nine silver and six bronze medals. In rowing, India has earned 5 medals, with 2 silver and 3 bronze.
Women's cricket has also made its mark, clinching a gold medal. Other sports like tennis, squash, and equestrian have added to India's gold medal count. Athletics has contributed 16 medals in total, with 2 gold, 8 silver, and 6 bronze medals.
Despite India's incredible performance, China, Japan, and South Korea maintain their dominance in the medal rankings. China, the host nation, boasts a staggering 270 medals, including 147 gold. Japan, in second place, has secured 122 medals with 33 gold. South Korea, in third place, has 133 medals, with 31 gold.
Hockey enthusiasts hold high hopes for the Indian hockey team, as they aim to contribute more medals. The Indian men's hockey team has displayed exceptional form at this year's Asian Games, particularly in the thrilling match against Bangladesh. Harmanpreet Singh's hat-trick and Mandeep Singh's three goals secured a resounding victory for India, even after a challenging semifinal defeat to Bangladesh.
While India has already achieved an impressive 60 medals, the nation eagerly anticipates the remaining events where Indian athletes are expected to shine. The aspiration of reaching 100 medals is within reach, and the entire country is optimistic about witnessing this milestone soon.