In a spectacular display of skill and determination, India emerged victorious at the 19th Asian Games, clinching gold and bronze medals in the 10-meter air rifle shooting event for men. Rudrankksh Balsaheb Patil, Divyansh Singh Panwar, and Aishwary Pratap Singh Tomar made the nation proud with their exceptional performances, scoring a total of 1893.7 points. This remarkable score not only earned them gold but also set a new world record in the process, surpassing China's previous record of 1893.3 points from last year's World Championships.
India's dominance in the shooting discipline continued as they secured yet another gold medal in the 10-meter air rifle individual event. Aishwary Tomar displayed his precision by securing the bronze with a score of 228.8 points. The competition was fierce, but Aishwary's exceptional marksmanship earned him a well-deserved spot on the podium.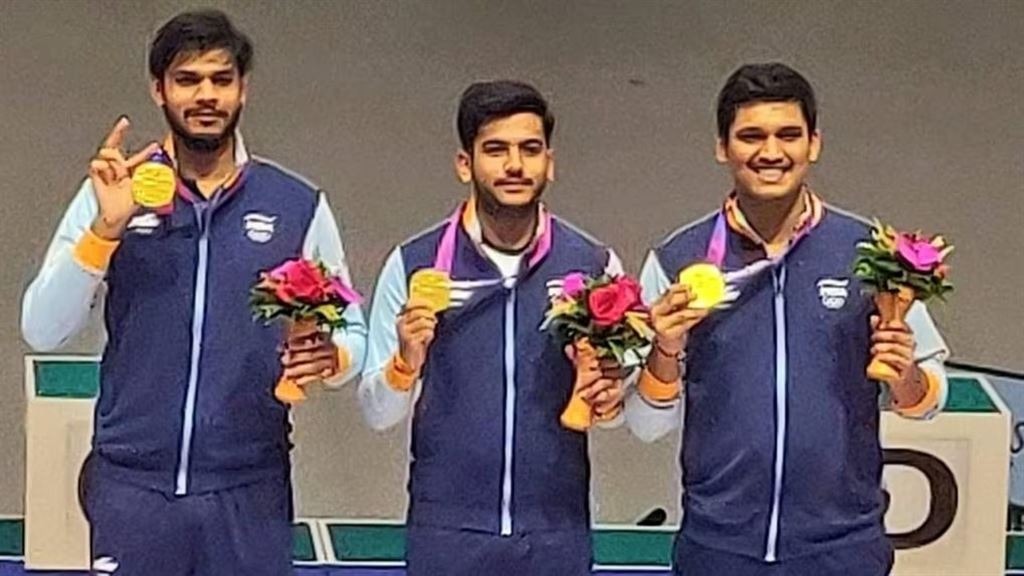 Not stopping there, India also shone in the 25-meter rapid-fire pistol category, securing a bronze medal. The Men's Four Rowing team consisting of Yashvinder, Vhim, Punit, and Ashish displayed outstanding teamwork and clocked a time of 6:10.81, securing a bronze medal in their event. Uzbekistan claimed gold in this category with a time of 6:04.96, while China secured silver with 6:10.04.
In the Quadruple Sculls category, the Indian team of Satnam Singh, Paraminder Singh, Jakar Khan, and Sukhmeet Singh showcased their prowess and added another bronze to India's medal tally.
With these victories in the shooting discipline and rowing events, India now boasts a total of 10 medals at home. This includes one gold, three silver, and six bronze medals, placing them in the sixth position in the medal standings. China continues to lead the rankings with an impressive haul of 27 gold, 11 silver, and 5 bronze medals. Other strong contenders include South Korea, Japan, Uzbekistan, and Hong Kong.
India's stellar performance at the 19th Asian Games is a testament to the dedication and hard work of its athletes. The nation looks forward to more triumphs in the days to come as they strive for excellence on the international stage.