Kolkata has seen a mixture of different races of people in its rich cultural history. Jews were also among them, that goes back to the eighteenth century. During their stay here, they constructed five synagogues out of which only two are functional now. Synagogues are places of worship for Jews. Magen David Synagogue is one among the three synagogues that are still functional. The synagogue's tower touches the skylines of the city and can be spotted from a distance.
The tall tower welcomes you to one of the oldest synagogues of the country. it was constructed by Elias David Ezra, in his father David Joseph Ezra's memory. The building reminds us of the Italian Renaissance. The synagogue is made of red bricks, that has an arched door at the entrance. The main door had the hexagonal star of David and something written in Hebrew.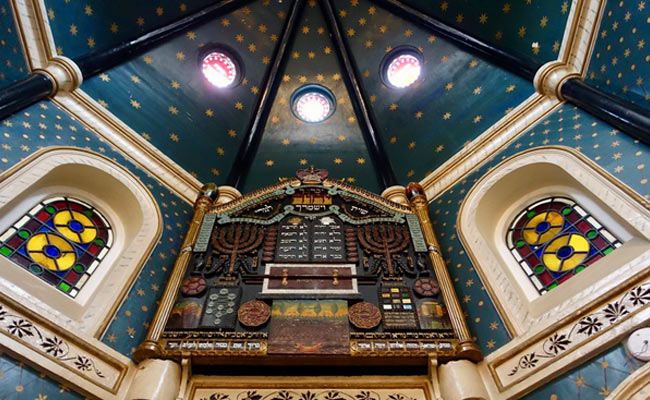 The prayer room inside the synagogue had raised a platform for the Rabbi to preach. The pillars had ornate floral works on them. Windows with colorful glasses and a stunning chandelier hanging from the ceiling just add up to its beauty. At the end of the room lies a raised alter with a semi-circular dome studded with stars having several Jewish inscriptions and iconography. There are two tables in the center with the "Ten Commandments".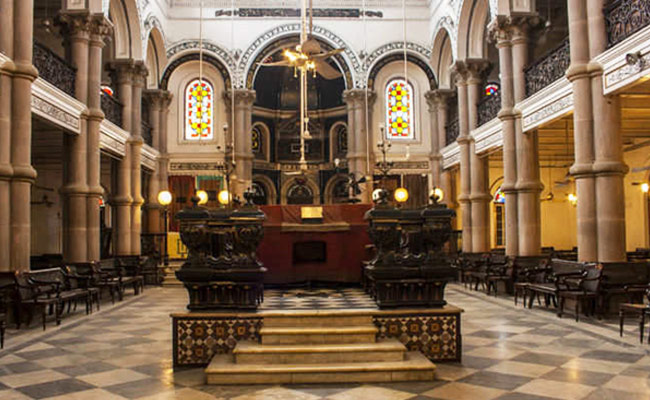 The main attraction of the synagogue is its 43 meters tall tower with an English-manufactured clock that has faced on four sides. The clock used to chime once upon a time at every quarter hour. At a time, there were around 6000 Jews here in the city which has now narrowed down to less than a hundred. Another synagogue, Neveh Shalom lies in the same premises and both these synagogues are now looked after by the Archaeological Survey of India. One can see the tall tower looming over them at the junction of Brabourne Road and Canning Street. It is one of the oldest and finest synagogues of India and Asia respectively.