Kolkata, the City of Joy, is set to welcome another football icon after Argentina's Lionel Messi. This October, during the auspicious Durga Puja festival, Ronaldinho Gaucho will be in town. The former World Cup winner, who also conquered the football world in 2002 and won the Ballon d'Or in 2005, is all set to mesmerize Kolkata for two full days!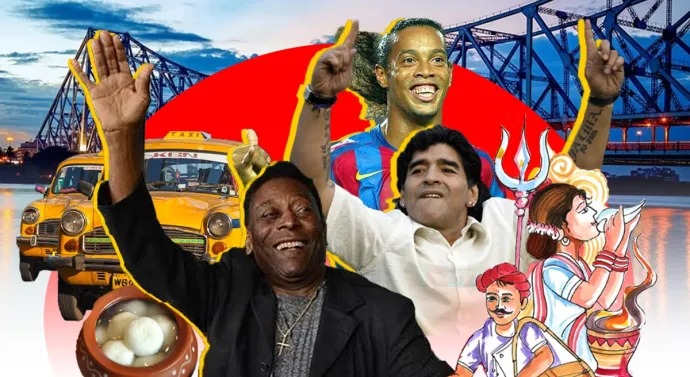 On the 16th of October, Ronaldinho Gaucho will touch down in Kolkata city. After that, he will head to a city in Bangladesh. After spending a day there, he will return to his hometown in Brazil.
Joining the ranks of Messi, Maradona, and Martínez, Ronaldinho's visit has football enthusiasts buzzing with excitement. With a two-day stay in Kolkata, there's even speculation that he might don the jersey of a local football team in the Kolkata Football League.
When the victorious Gaucho arrives in Kolkata, the city's residents will be swept up in the fervor of the Sharod Utsav (Durga Puja). Perhaps we will see the beloved football legend participating in traditional Bengali rituals, wrapped in the cherished dhoti-panjabi attire. Shatadru Datta, a sports enthusiast, commented, "Blending football with Durga Puja—that's an idea we eagerly anticipate! Kolkata is poised to embrace Ronaldinho wholeheartedly."
Further explaining the phenomenon, Datta added, "While football legends like Messi and Maradona have their own magic, Ronaldinho's charm is unparalleled. He truly is the magician of football."
Taking a closer look at Ronaldinho Gaucho's illustrious career, he left his mark everywhere he played. From 2003 to 2008, he scored 70 goals in 145 matches while wearing Barcelona's jersey. For the Brazilian national team, he netted 33 goals in 97 matches. He was crowned the FIFA World Player of the Year in both 2004 and 2005, earning the title of "The Magician."
Ronaldinho Gaucho's visit to Kolkata is eagerly anticipated by football aficionados across the city. As the day approaches, the entire city is filled with excitement, awaiting the arrival of this football legend.