Plastic materials are durable and affordable, found in every household. But they are also non-biodegradable and harmful for the environment. The wide use of plastic is killing mother nature and its precious creations. Every day there are reports of animals choking to death on plastics. Irresponsible humans dump plastic objects anywhere and everywhere. There are a few responsible people who take it upon themselves to help the environment like disposing scattered plastics or recycling them and putting them to good use. Papan Mohanta has set an example with this work. Mohanta, a forest range officer (FRO) of the Pirakata Range under Midnapur division devised a beautiful garden using waste plastic bottles and rubber tires. He has been doing this since his first posting there at the Pirakata range office, four years back. He has become an inspiration for the locals and some of the schools also created similar garden. Over the years Mohanta has used around 1, 100 plastic bottles and rubber tires for this garden. Mohanta revealed,
"There was a lot of waste here when I first got posting here. I wanted to beautify the area. After working on it, I feel good after people appreciate it while visiting here."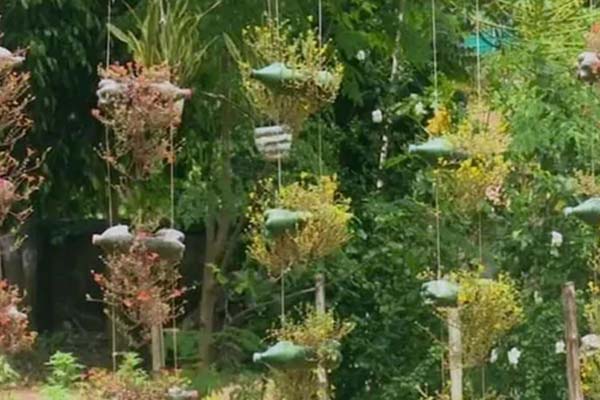 A nearby school teacher, Subinoy Ghosh said that trying to replicate Mohanta's idea in his school and also said that this initiative will shape into a big movement. Ghosh also said that if the news of this garden spread via media or schools it can stir into a big movement. He himself gets plants from there and wishes for nearby nurseries and forest offices to replicate it.
Mohanta plants petunia during the winters and currently there are seasonal flowers. Taking a leaf out of Mohanta's book, CRPF jawans in the nearby region also did this. It has become a popular go-to place and many pay a visit there.