For centuries, Bengalis have been known for their characteristic devotion to good food and adda. Hilsa in the monsoons is probably the cherry on top. Starting with the urge of buying this special fish from the market even at an-otherwise-ridiculous-price to cooking them in numerous ways for an entire platter in a family meal – Hilsa has always been an integral part of Bengalis across the borders.
Due to high demand and overpricing hilsha lovers are deprived of their ever favourite fish. Unfulfilled wish remains for all hilsha lovers.
My grandmother relives her fond memories of monsoon feasts with Ilish in her ancestral home at Barishal every time she breathes in the aroma of Ilish bhaaja emanating from the kitchen in her Kolkata abode these days.

But it's not just the senior people who are so affectionate to this King of Fish. The younger generations of Bengalis savour this tasty treat with equal zest and ardour.
Hilsa, the fish that unites Bengalis beyond political borders, geographical distances and varied cultural backdrops.Decades of Hilsa adoration in Bengalis have ingrained this fish into a glorious part of their lifestyle, culture and heritage.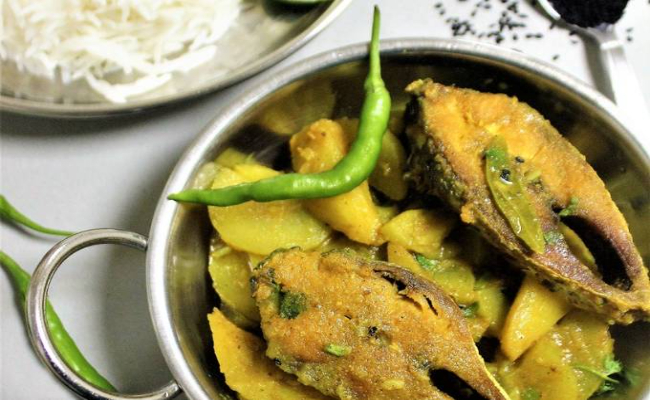 The Bengalis of both West Bengal and Bangladesh have openly embraced Ilish to grace their tables on numerous occasions and celebrations. Gradually, the Hilsa has eked out a vital part in the traditions as well, starting with Poila Boishakh (Bengali New Year).
As part of the Bengali New Year celebration in Bangladesh, it is customary to share a meal of Ilish Maach and Panta Bhat (fermented rice) with friends and family. West Bengal simply revels in any and all delicious recipes with Ilish along with their chingri and mutton on special days like Poila Boisakh, durga puja feasts, bhai phonta, etc.

As the year rolls on, comes monsoon – the dedicated Ilish-season. With a good harvest, the markets literally flood with this shining silvery fish with a delicate pink streak. Not surprisingly, the demands never curb and the prices determinedly stay on the upper scales mostly. But that never prevents the killer combo of Khichuri and Ilish bhaaja to satisfy the cravings of an average Bengali on a rainy day.
The eternal cultural debates between ghoti and bangal go on over the supremacy of Ilish from Ganga and Padma respectively. Despite all such controversial banter, Ilish thrives on as a darling subject in Bengali art and literature.

Bengalis are naturally romantic. The drizzling monsoon rains are called 'ilshe guri' in dedication to the fish. Their love for this delicate fish easily seeps into the fine arts, literature, songs and even on the celluloid screen.

From Satyendranath Dutta's nostalgic poem 'Ilshe guri' to Manik Bandopadhyay's realistic novel, Padma Nadir Majhi to numerous blogs of current times, Ilish has found its mark in Bengali literature countless times. People have even dedicated songs to the heavenly feeling of Sorshe Ilish on a rainy day!
Love for Hilsa affects one and all among Bengalis. Here are some interesting anecdotes about famous Bengali personalities who fell hopelessly in love with this beauty in its true sense.

Swami Vivekananda's fondness for Ilish is now well-known among the curious Bengalis and beyond. His favourite dish was Ilish with pnui saak (Malabar spinach). The famous Bengali writer, Sankar, has highlighted this fact in two interesting books he has penned on Swamiji — Aahare Anahare Vivekananda and Achena Ajana Vivekananda.
The world-famous movie director Satyajit Ray was a connoisseur and visionary in his field of expertise. However, he was reportedly a bit choosy when it came to fish.
There were umpteen ways to prepare this delicate fish. You can relish Hilsa as smoked, dried, fried, steamed or cooked in gravy using mustard paste or coconut milk. Or you can go about breaking the fish pieces and mixing it with different greens and vegetables to cook lip-smacking side dishes.
Some people like it in its dried and salted version, known as Nona Ilish ('Nona' means salty). It's a revered dish among Bangals in West Bengal and people from other parts of India, like Tripura, Odisha etc.

Generations of Ilish admirers among Bengalis have strived and successfully created many Ilish recipes that are unique, flavourful and undeniably savoury, to say the least. With time, a few of these recipes, such as Ilish Jhuro (Crispy crumbling hilsa), Tetul Ilish (Hilsa in Tamarind sauce), etc. have been almost lost to practice.
Some of these treasured recipes are still swaying Bengal kitchens in its full force, with little variations from one cook to the other. For instance, Pragyasundari Debi (who single-handedly introduced us to the Tagore family's heirloom dishes) cooked Bhapa ilish on a bed of rice.

Still, some new fusion recipes with Ilish are coming up with innovations by gourmet chefs and food enthusiasts — Anarosh Ilish (Hilsa with pineapple), Ilish risotto, and baked Ilish are some examples. But the authentic illish bhapa and illish fry is unmatched.